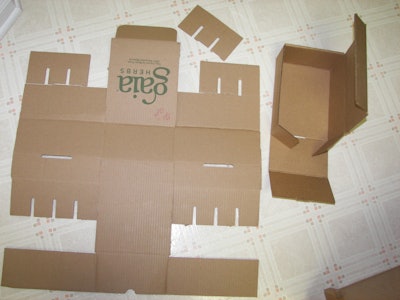 Gaia Herbs, Brevard, NC, is a certified organic grower and nationally branded manufacturer of herbal dietary supplements. The company cultivates 300 acres of medicinal herbs and operates a 45,000 square feet manufacturing and packaging facility. Gaia's all-natural herbal products are marketed through health food stores and natural products retailers nation-wide.
Company VP of Marketing Ann Griffen Buchman notes, "In 2010, Gaia committed significant resources to re-branding and the development of the industry's first herb traceability program." And in 2013, the company received the first ever Award for Sustainable Excellence from the John Paul Selects organization. The judges cited use of solar energy for heating water at their manufacturing plant, wind power offset credits for 100% of Gaia's power usage, and full compliance with the USDA National Organic Program among key reasons for the award.
In conjunction with these other environmental initiatives, Gaia Herbs also wanted to redesign its shipper packaging to save money, decrease product damage, and provide a positive environmental impact.
Upgrading by down-sizing
The previous shipper pack operation packed individual products into 11 different inner carton sizes and placed those inner cartons into one of 8 shipper case sizes, filling void space with biodegradable foam peanuts. Some of these cartons and shippers incorporated slotted dividers, and a full-time worker was needed to assemble the packaging.
Gaia convened an in-house team to analyze and improve its carton and casing systems and reduce its carbon footprint. The company also enlisted the assistance of packaging consultant Dr. Kenneth Marsh, Kenneth S. Marsh & Associates, Ltd., Consultants to the Food, Pharmaceutical and Packaging Industries.
The resulting revised program primarily uses pop-up set-up systems for two inner carton sizes and three manual set-up shipping case lines for three shipper case sizes. Dividers were removed, resulting in packaging material savings. Product damage was reduced instead by creating tighter inner carton and case dimensions. The program reduced packaging costs, shipping costs, and product damage. Additionally, environmental impact of the packaging was reduced by eliminating the peanuts, reducing board usage, and making the shippers more compact—allowing more shipments per truck.
Prior to the redesign, Gaia Herbs had to warehouse 80 pallets of packaging materials to accommodate production of the variety of cartons and shipping cases on-site. Now, the cartoning and casing operations are easier, quicker, and more materials-usage-efficient.
All the cartons and shipping cases are supplied by Pratt Industries and are made from 100% recycled corrugated board. Kevin Gaylord, Customer Relations and Fulfillment Manager for Gaia Herbs, explains, "We have converted our inner packing to auto-bottom, pop-up boxes that require no pre-assembly. Our amazing boxing staff collects one of the two (versus the previous 11) different sizes of inner-pack cartons, according to what product they are packing and pops open the carton for filling. We manually fill the inner cartons with a variety of product sizes such as one-oz, 120-cc, 250-cc, and 16-oz liquid-filled glass bottles, as well as various forms of product literature and display materials."
The inner-pack cartons, which are specially fitted to accommodate individual shipments, then are sealed and manually loaded into shipper cases. No foam peanuts are needed to fill void spaces or cushion the case contents. Traceability labels are printed using desk top printers from Zebra Technologies and hand-applied to the cases.
Eco-conscious & extra efficient
According to Gaylord, "Working with Pratt, not only are we in a better position to reduce expenses and increase efficiencies, but we are generating significantly less waste byproducts than ever before. Our reduction in inventoried corrugated boxes has been close to 5.5%, which is substantial for a high-volume operation like ours. And we are able to ensure excellent protection of our glass-packed products and package the orders in considerably less time."
Gaia Herbs also has been able to increase staffing efficiencies by converting to the auto-bottom pop-up inner-pack cartons. This system is saving the company between 30 and 40 employee hours per week in carton set-up/loading time.
The company also has installed a corrugated shredder, offering additional benefits. Gaylord notes, "We recently purchased and implemented a corrugated shredder so that we can re-purpose sheets of corrugated board into strong void-fill material that can be reused and then recycled. So it has a virtually net-zero environmental impact. Since we already have this material in-house from inbound shipments, we are seriously reducing our corporate carbon footprint."
Companies in this article