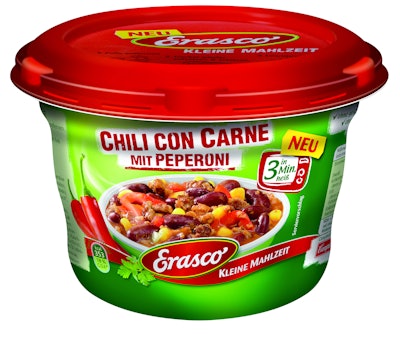 Campbell was looking for a packaging solution for its Convenience Food segment that could meet the strictest of demands in terms of product quality and consumer friendliness. The solution was absorber technology from Albis Plastic that is used in multilayer packaging from the RPC Bebo Plastik GmbH. Matthias Michaelis, Business Unit Manager Barrier at RPC Bebo Plastik, has this to say of the Albis absorber technology: "As a long-standing development partner to Albis Plastic, RPC Bebo Plastik has a vested interest in supplying the market with solutions for active high-barrier packaging as an alternative to glass and metal packaging."
The additive batch SHELFPLUS® O2 absorbs both the oxygen that penetrates through the outside of the packaging and also the oxygen in the headspace. "The oxygen absorber offers absolute protection for sensitive ingredients, such as colouring agents, vitamins, greases, or oils. This retains the taste and quality," says Roland Schultz, Director Marketing Packaging at Albis Plastic.
SHELFPLUS® O2 is available on various base materials such as PP, PE or also EVA. A PA-based type is also in progress. All types can be used in both flexible or rigid plastic packaging.
Companies in this article