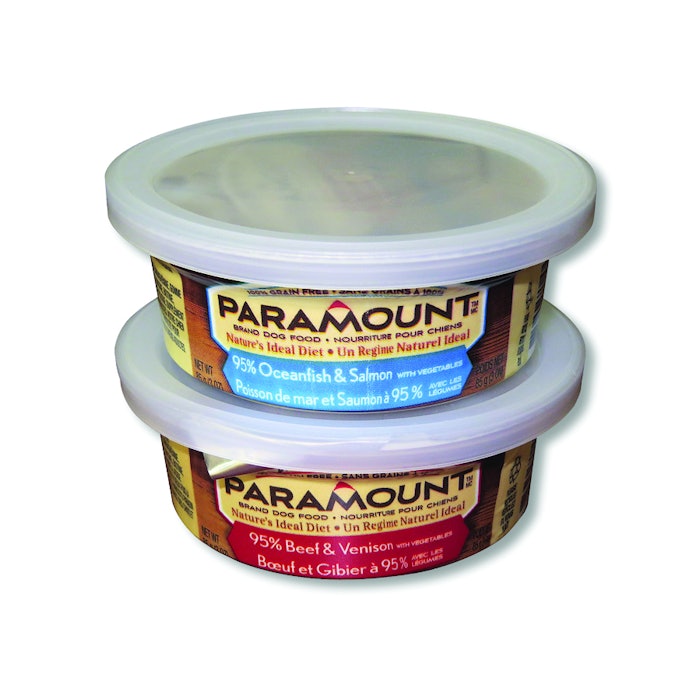 Pet-food manufacturer US Pet™ Nutrition of Lyons, GA, continually works to produce the most palatable, nutritious, and visually and aromatically pleasing pet-food recipes available. Offering an extensive line of private-label and branded wet cat and dog food, the company also looks to provide its customers with the most innovative packaging available, including easy-open cans, pouches, and plastic containers.
With a recent investment in a new, state-of-the-art wet pet-food facility in Lyons, US Pet Nutrition put special emphasis on producing healthy, wholesome pet-food products, using advanced packaging technology.
"At US Pet Nutrition, we understand the importance and satisfaction that comes from providing one's pet with a nutritious diet," says Kent Hemphill, Vice President of Marketing, US Pet Nutrition. "Our pet-food customers are not only looking for healthier, better-tasting foods, but also foods that are packaged to ensure freshness, maintaining food quality from the time the package is filled to when the consumer opens the package at home.
"Additionally, our [private-label] customers are looking for packaging that offers convenience to the consumer while capturing their attention at the shelf."
Looking to produce fresher-tasting foods stored in rigid packaging, US Pet Nutrition went to Printpack Inc., a manufacturer and printer of flexible and specialty rigid packaging, for a thermoformed container solution incorporating a proprietary desiccant barrier technology that preserves the quality of the food despite the rigorous retort process.
Plastic pack enhances freshness
US Pet Nutrition's switch to rigid plastic packaging fell in line with the company's commitment to innovation. "Plastic is a more modern and advanced type of packaging compared to the metal cans that have been in the pet-food market for decades," Hemphill says. "The peelable top and resealable closure make plastic containers convenient to use while maintaining the freshness and appeal of the product packaged inside."
Says Printpack Sales Manager Brian Erwin, "US Pet Nutrition's desire for plastic barrier alternatives to metal cans and the need to deliver maximum shelf life for its pet-food products was an ideal match for Printpack and its advanced barrier technology offerings and food science experience."
Printpack worked with US Pet Nutrition to design a variety of plastic containers that combined advanced barriers with Printpack's newly developed desiccant technology—an additive agent that keeps the ethylene vinyl alcohol copolymer (EVOH) barrier layer dry during the wet thermal processing that occurs during the retort process.
"Printpack's desiccant barrier technology enables US Pet Nutrition to produce products that meet the rigorous demands of the retort process while maintaining the quality of the food," says Erwin.
An inherent challenge for retort products is the "retort shock" that the plastic barrier container experiences during the cooking/sterilization process. During the retort process, the water vapor will migrate into the EVOH barrier layer of the container and damage the barrier layer by leaving voids. Retort shock renders the package less effective at protecting the food from oxygen and ultimately decreases the shelf life of the product.
When working with low-acid foods, like pet food, the length of time required for sterilization further increases the impact of retort shock. Maintaining the integrity of the container while providing the optimal level of cost savings is a challenge for manufacturers.
Another challenge with this market segment involves pets with a high sensitivity to off-foods and flavors. By protecting the EVOH layer throughout the retort cycle, Printpack has been able to greatly reduce the level of oxygen ingress directly following the cycle, thus leading to improved shelf life.
"Through the use of desiccant technology, we have also been able to provide a better-quality package, which has led to improved quality of the product in both flavor and color," Erwin says. "This addresses pets' high sensitivity to off-foods and flavors, allowing US Pet Nutrition to better satisfy the needs of both their customers and their beloved pets."
Shelf appeal a major priority
Shelf appeal played a large role in US Pet Nutrition's packaging decision-making process. Retort plastic packaging with desiccant technology allows for greater shape and design variation. Printpack took this into account when collaborating with US Pet Nutrition on the overall design of the package.
"In addition to added shape and design, thermoformed plastic cups are stackable, and they provide for easier shipping and cost savings compared to metal cans," Erwin says. "Our technical resources work to ensure that the most efficient box configuration is used to maximize the number of cups on a truck, resulting in freight savings."
The plastic containers developed for US Pet Nutrition that are currently commercialized include a 10-oz round cup in white with desiccant technology, and an 85-g round cup in white with desiccant technology. The seven-layer coextrusion from which the cups are thermoformed consists of PP/regrind/tie/EVOH/tie/regrind/PP. Decoration is done by way of a shrink sleeve label that also comes from Printpack. Closures are injection-molded PP.
Additionally, Printpack has developed several other packaging offerings for US Pet Nutrition that are not yet commercialized.
"US Pet Nutrition showed great excitement toward our innovative barrier technology," says Erwin. "They view desiccant as a way to provide a better-quality product to the end customer through improved protection of traditional barrier technology."
The new plastic containers were made available to US Pet Nutrition's customers in the spring of 2012. Those private-label and branded pet-food products utilizing the desiccant barrier containers can be found throughout the U.S. and Canada at major retailers and supermarkets.
"The response from our customers has been very positive," says Hemphill. "We have received strong demand for pet-food product packaged in these new containers. We are currently working with Printpack to further expand our rigid plastic offerings."
Companies in this article