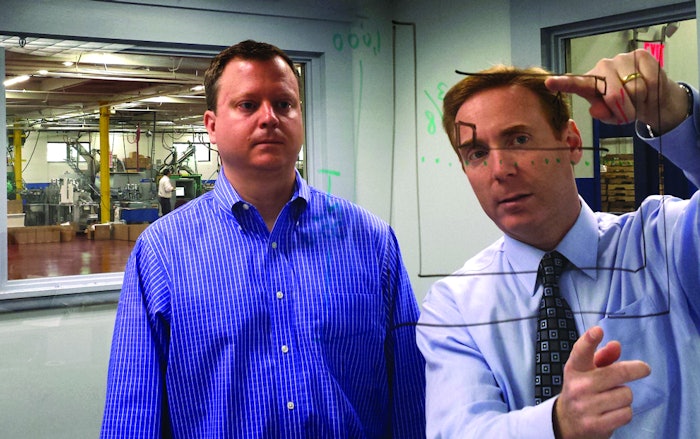 "An afterthought." According to Elisha Tropper, president and CEO of Cambridge Security Seals, Pomona, NY, that's how packaging for industrial products is typically viewed. "I have spoken with manufacturers of industrial products around the world," he says, "and for most of them, packaging is not even a consideration. They are manufacturers; they are not packagers. They make an industrial product, and industrial products are dumped into boxes. But whether the box is an inch bigger or an inch smaller, what does it matter?"
When Tropper—former owner of a packaging converter and current president and CEO of packaging strategy consultancy T3 Associates, acquired CCS in late 2010, he challenged this mindset at his company. Taking packaging optimization into consideration from the point of product design, CSS developed a sturdier product that requires approximately half the packaging of its competitors' seals, resulting in a greater value for the end user and a product with a more premium presentation.
Explains Tropper, "We felt that the competitive packaging that existed on the market was a legitimate and obvious target and offered us an opportunity to improve not only the performance of the product, but also the performance of the packaging at the same time. And by performance of the packaging, we not only mean improving the rigidity and sturdiness of the package, but also the financial impact on our customers as well."
Integrating product and package design
CSS, formerly the security seals division of industrial supplier Cambridge Resources, is a manufacturer of tamper-evident, tamper-resistant, and high-security loss prevention seals for customers across a wide range of industries, including trucking, shipping, logistics, cash-handling concerns, food and beverage, and pharmaceuticals, among others. Its most popular product is the PTS Plastic Truck Seal, a fixed-length plastic truck seal designed to detect and deter theft and contamination. The division was spun off as its own entity in 2010 to pursue the development of domestic manufacturing.
"From the outset, I instructed our people that our goal was to provide our customers with a significantly higher-value proposition than anything they could find anywhere else in the world, including Asia," says Tropper. "So the manufacturing parameters I set forth were very simple: We would only produce a product whose performance was best in class, supported by a best-in-class customer service organization, while being priced as competitively as any company in the market. So basically, if we couldn't produce a better product, and sell it at the most competitive price, and support it with the right kind of organization, we weren't going to get into that product."
CSS's forte became the plastic security seal with an enhanced design, produced and packaged in an entirely automated process—in contrast, much of Asian manufacturing still relies on many manual operations. Says Tropper, "Manufacturing in China still forces you to compromise in some way, shape, or form on quality, on lead times, or on product development."
Producing a better product, in Tropper's view, included consideration of the packaging during the product design phase. "I still remember explaining to our team that there are essentially two components to packaging," he says "There is the construction and the visuals of the package itself, and then there is the packing of the item within the package to fit, the ability to store it after opening, if necessary, and the protection it provides to the product in transit—all these things are part of what we call packaging. When we assembled the competing products, it was obvious that none of them was packaged particularly well."
Security seals—picture a zip tie for a rough comparison—are supplied in mats, comprising 10 or 20 seals across. During packaging, the mats are stacked within a box, typically in a head-to-toe fashion. Tropper likens it to stacking packets of paper stapled in the corner: "When you lay 10 of them down on a table, that top left corner where the packets are stapled together, begins to creep up. So you might lay the next bunch of papers head to toe, in order to keep the stack flat." Security seals are packed in much the same way, or in some cases, with each mat laid on top of the next in a 90-deg rotation.
In designing its security seal product, CSS looked at how it could reduce the height of the product within the package, while at the same time increasing the strength of the seal, making the rigid plastic less prone to breakage on impact. The answer was to dramatically shorten the height of the barrel (in the zip-tie comparison, the head of the tie). "We added ribs to the side of the seal," explains Tropper, "so instead of long and thin, we made it shorter and much more robust. It is also much stronger in terms of the added support we gave it on the width side. At the same time, we also improved the strength of the other part of the seal that gets inserted and pulled through the seal in order to make it a stronger product."
This new product design resulted in a significant reduction in package size, with savings varying depending upon security-seal type. "If you think of a box of 1,000 seals, it means you need either 50 or 100 mats," says Tropper. "If you've reduced each mat by even one quarter of an inch in terms of height, that means for every 10 mats, you've reduced the height by 2.5 inches. And for every 100 mats, you have reduced the height by 25 inches."
Bottom-line benefits
Many bottom-line benefits have accrued to both CSS and its customers as a result of CSS's strategic product design and reduced packaging footprint. While Tropper says there may not be a significant reduction in plastic in the new product design, the more effective allocation of the resin in the structure has resulted in a better seal for the same material cost.
Likewise, because CSS uses a separate box SKU for each of its product lines, it may not have reduced its corrugated material costs substantially, but by using smaller and more optimized packaging, it has offset the cost of carrying multiple box sizes. "We are able to do a much better job with the same dollars," says Tropper.
Smaller box sizes do mean reduced freight, as well as less space required to stock the product at the customers' site, however. Using CSS's LPT Light Duty Pull Tight plastic seals as an example, Tropper says that when compared with a competitors' entry in that class, a 5-lb box of 1,000 LPT seals from CSS measures 1,152 cu in., whereas the competitors' 5-lb box measures almost 1,800 cu in.—more than 55% larger. "So a standard pallet of our boxes can hold about 120,000 seals, while that same pallet will hold only about 80,000 of our competitors' seals," he says. "For a customer, if you are storing 500,000 or 1 million seals in your location, over time, that adds up."
Compactly packing the seals inside the box, rather than laying them loosely inside an oversized case and adding void fill, also results in sturdier package overall. Tropper says that when you combine this with a better-performing product, consumers are left with the impression of a more premium product.
While Tropper does not believe the reduced packaging size has necessarily been a determining factor for customers choosing CSS seals, he believes it confirms for them the higher value of his company's products. "Not only does our product perform better in its intended applications, but we also save our customers money by reducing the cost to receive, distribute, and inventory the product. I think that's just a nice added feature that customers, once they are working with us, really come to appreciate."
Packaging plays role in success
Looking back on 30-plus months in business, Tropper credits innovation as a major driver of CSS's success, with the often-overlooked aspect of industrial product package design playing a large part. "While it might seem strange to be concerned about the quality of packaging for an industrial product in a simple corrugated box that's rarely seen before being purchased, the fact is that these products are used by people and by companies, and the packaging is seen by the users. It is a functional package. So to us, that makes packaging matter," he says.
"You might say that we thought about the box in an out-of-the-box way because we took what's an afterthought to most companies and looked at how we could add value into the offering. Once we had developed the performance criteria for the product, we set about developing the packaging criteria in a similar way. As a result, our end product is not only the best in class from a performance standpoint, but also from a results-improving-packaging standpoint as well."