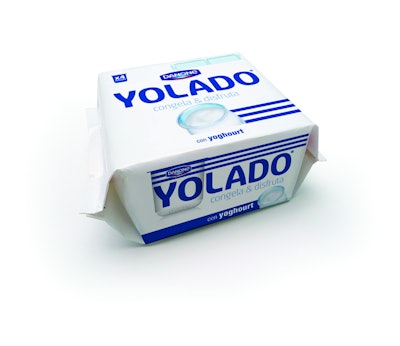 Frozen yogurt continues to grow increasingly popular. So if you're the world's leading producer of traditional yogurt, how do you get in on all the growth opportunities available in the frozen variety?
Well, if you're Danone, you introduce Yolado, a frozen yogurt that's not frozen. Launched in May of 2012 in Spain, this product is sold through the refrigerated chain. The consumer buys it at the supermarket and takes it home to freeze it. Its refrigerated shelf life is 30 days, and once it's frozen it's best consumed within 60 days. When asked why not sell a frozen yogurt that's frozen in the first place, Packaging Development Manager Michelle Boadas put it this way.
"We are a fresh product company. We don't do frozen food. We are experts in fresh products."
Among the many intriguing things about Yolado is how nimble Danone has been in introducing it. For example, at launch it came in two sizes: a multi-serve 500-mL and a single-serve 125-mL. In year two, the larger size has been eliminated. As for the single-serve, it has all new graphics.
According to Boadas, the larger size was eliminated because it just wasn't catching on with consumers the way the smaller size was. And the new graphics? Boadas says the cleaner and simpler look, with its reliance on white, is largely about freshness, simplicity, and goodness. Supplied and in-mold-labeled by ITC Packaging, the polypropylene cups were designed with help from a Spanish Innovation Consultancy agency called Loop.
"We relied on Loop for help in thinking outside the box," says Boadas. "They helped us make the design more daring while still being respectful of the general Danone spirit and philosophy of design and package appearance, and always keeping in mind the rules of our business.
"In designing the Yolado package," Boadas continues, "we wanted to reference ice cream containers. The lip of the package, for example, is not flat. It has a slight downward angle that echoes an ice cream package. ITC also made a strong contribution with in-mold labeling and injection molding know-how."
Premium image
Boadas and colleagues wanted to project a premium image with this container, which was another reason they opted for premade injection-molded cups rather than the typically more economical thermoform/fill/seal approach that so many Danone plants have recently been switching to.
"That's not to say you can't produce a very fine cup with f/f/s," notes Boadas. "But you have a little more control over material flow with injection molding. Another compelling reason for going with preformed cups is that when we first launched we had two package sizes to produce. It's much easier to change the filling machine from one size to another when you are dealing with pre-made cups."
The filling machine she refers to is the Dosomat 12 rotary filling system from Waldner. Rated at about 15,000 cups/hr, it uses five filling nozzles to fill five cups at a time (pwgo.to/0130).
From five overhead magazines, cups are pulled down into a tool with five pockets that hold the cups. There are 12 of these cup-holding tools, which rotate through the system and pause beneath the filling nozzles when it's their turn. They also pause beneath a pick- and-place device that pulls foil lidding material—again from five overhead magazines—and places it on the cups. In a final station, five heat seal tools attach the foil lid to the cup flange. Then the five cups are lifted out of their pockets and onto a discharge conveyor. Mounted over this conveyor is an ink-jet printer from Markem Imaje that puts two use-by dates on each cup. One instructs the consumer to freeze the cups within 30 days and the other says that the product is best consumed within 60 days after freezing.
Next in the line is a robotic system from Comasa Solving into which clear PET trays are automatically fed by a denesting device. The Comasa machine uses a vision system to identify cup location. It then picks and places four cups into each PET tray.
A Synchropac flow wrapper is next, which encases the tray and its four cups in an adhesive lamination of PP/PP; the top layer is reverse printed on a gravure press in four colors. Also on the flow wrapper is another Markem-Imaje date coder that puts the two date codes on the flow wrap material.
Robotic tray loading
The last pieces of automation in the line are a Pfankuch robotic system that loads six flow-wrapped PET trays into a corrugated tray and a palletizer supplied by Mariani.
Priced at about 2.75 euro ($3.65) per four-count flow pack, Yolado sold briskly in 2013, its second summer. Production will come to a close in September as Danone has chosen to produce it only in the months when products like ice cream and frozen yogurt are at the top of the consumer's shopping list. The firm is looking into the possibility of developing a new product that can be in production on the Waldner cup filling line during the winter. The flexibility of the Waldner Dosomat 12, as opposed to a f/f/s machine, will facilitate this process, notes Boadas.
"Yolado was a significant project for a number of reasons, partly because of the way it involved the design consultancy Loop," says Boadas. "They brought in a welcome dimension that traditional design agencies don't always have. Most agencies are very good on image, and they are a good source of inspiration. But they are not as good on shape or structure or on understanding the industrial processes behind getting the design executed and onto a store shelf. This was one of the benefits of working with them. They brought this missing element. They also helped us keep the spirit of the original idea. Often an original idea gets lost by the time the product is launched. That didn't happen with Yolado."
And now a word from the designer
Branding and design agency Morillas was responsible for Yolado's new graphics. From the June 4 issue of the Morillas blog/newsletter called NG, here's what the designers had to say about the new look for Yolado:
As the summer season approaches, Danone focuses once more on innovation, and Yolado returns to revolutionize yogurt ranges with a new, cutting-edge pack. It's bursting with dynamism, freshness, and simplicity, all without losing the elements that best defined the brand's personality: its naming and ranges. Yolado is a brand with its own personality that stands out and differentiates itself by making dessert a moment the whole family can enjoy.
We strengthened the brand image by creating a simple and direct pack; a white background and three flavor and color lines are the four elements that define the new Yolado identity. In addition to being the codifying element for the flavor, the lines and color define Yolado's new visual language.
The greatest revelation is that for the first time, the Danone brand changes color, as each flavor exists independently and expresses itself in a unique, fresh, and upbeat way. The lines take color and transversally speak up for the brand: the best way to understand Yolado as a unique experience.
The visual language echoes complicity, quality, versatility and simplicity; the colors exude humor with an amusing, positive touch; and last but not least, the brand breathes trust and security into the product. Language has been expressed clearly and powerfully in the brand communication.
From the yoghurt aisle to the freezer! Strawberry & Raspberry, Mango & Passion Fruit, Coconut and Natural… Which is your favorite? Freeze one and have fun finding out!
Companies in this article