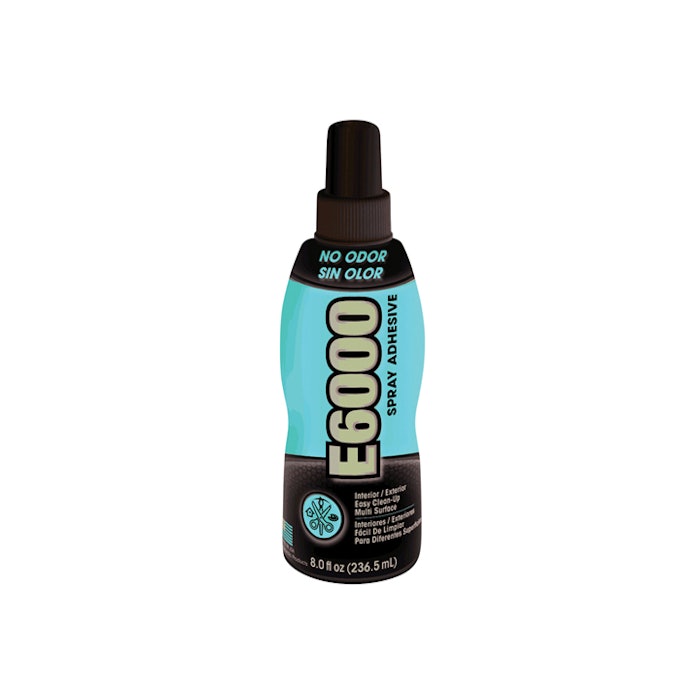 The fast-drying, non-toxic, low-odor adhesive is well-suited to accommodate a range of applications, including paper, fabric, leather, and glass. This latex-based product does not contain volatile organic compounds (VOCs) and does not emit toxic fumes or incorporate flammable propellants often associated with solvent-based products.
To package this new adhesive, Eclectic Products wanted a distinctive-looking, non-metal, "female shopper friendly" bottle that could fit into a smaller hand. Also considered essential was a pump closure that could deliver a controlled spray pattern without dripping or over-spraying.
The company teamed up with packaging consultant Berlin Packaging to design and source the optimum market-attractive container solution for this new product. After carefully reviewing Eclectic's criteria, Berlin Packaging recommended custom-blow-molded, hour-glass-shaped bottles supplied by Sonic Plastics, topped with Mark VI Mist Sprayers from MeadWestvaco that deliver a controlled medium-spray pattern.
The bottles are wrapped in full-body high-gloss shrink-sleeve labels designed through a collaboration of Eclectic's in-house designers and Selke Design, Dayton, OH. The PETG shrink film is digitally printed.
E6000 Spray Adhesives hit store shelves in April 2013 and quickly turned into the most successful new product launch in Eclectic's 50-year history. The company reached its annual sales forecast for the new SKU in just a few months with distribution in such store chains as Walmart, Michael's, Hobby Lobby, AC Moore, and other home improvement, hardware, and craft store chains in both the U.S. and Canada. The product has earned a Gold Packaging Design Award from the North American Retail Hardware Association.
Theresa M. Waugh, Vice President of Sales & Marketing for Eclectic Products, notes, "The package instantly differentiates the E6000 Spray Adhesive from the look-alike metal cylinders used by competitive adhesive products. This is possible because the Eclectic product is solvent-free, eliminating the need to package the product in a metal aerosol can. We had 7,000 stores sign on by June and counting fast."
Average retail price for the 8-oz products is from $8.47-$9.49. Eclectic is in the process of rolling out a 4-oz version of the product to augment the popular line.
Currently, the new spray adhesive is being packaged by a contract filler (name not disclosed). Eclectic Products has plans to bring the packaging operation in-house when the company's new facility in Pineville, LA is completed later this year.
Companies in this article