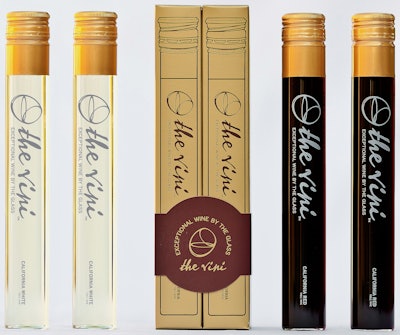 Designed to bring elegance to the single-serve wine format, a new 187-mL glass vial package from The Vini winery, of Miami Beach, FL, has been introduced specifically for the high-end wine market. "We are not trying to compete with the ready-to-drink market, which is more about convenience over quality," says company founder and CEO Sunny E. Fraser. "It is a lifestyle product about providing accessible luxury."
The glass vial format, also called The Vini, with the tagline "Exceptional wine by the glass," was soft-launched last January in South Florida, in upscale hotels and retail outlets, as well as in 12 states nationwide direct-to-consumer via the company's website. Varieties include a California Napa wine based on Zinfandel and a California Sonoma wine based on Chardonnay.
Fraser explains that the package was modeled after the smaller, sample-size vials (typically 50, 60, and 100 mL) used in Europe: "I was inspired by the sleekness of the sample size and thought that it would be an excellent format for the delivery of fine wines if it were redesigned into a more ample, single-serving size. Since the format I envisioned did not exist, I developed the design."
The cylindrical vial is made of lightweight, seamless glass from a proprietary supplier and features a flat bottom with a slight indentation, or punt, similar to a full-size 750-mL bottle. "This gives The Vini a sexy profile that is smooth to the touch—a tactile difference highlighted by screen-printed labels," says Fraser. Topping the vials is an industry-standard Stelvin® screw-cap closure from Amcor.
Unlike some other new alternative single-serve wine formats—among them plastic stemware-style "glasses," cans, and plastic bottles—The Vini is meant to be poured into a glass, so it can aerate and be presented like any other fine wine. "In a restaurant setting, the format allows for a transformation of by-the-glass lists, where spoilage and over pouring are no longer a concern," relates The Vini Chief Visionary Officer and Chief Wine Expert David K. Gordon. "It can be priced accordingly and served sommelier style at the table, where the guest knows that it was just opened, and they are getting exactly what they paid for."
To fill the unique format, The Vini engineered a proprietary packaging line at its state-of-the-art bottling facility in Sonoma. Among the equipment used is a 25-head Bertolaso filler, a McBrady Engineering orbital sparging wheel, an AROL five-head capper, and a Cryotech nitrogen ultradoser. According to Fraser, the winery plans to begin bottling services for other brands in The Vini format in 2014.
The Vini is sold in single units, in a custom four-pack box, and in a case of 48 units. For hotels, a single-unit hotel-kit package made of a clear PET outer shell, is available that showcases the wine and protects it while being displayed with other amenity offerings. Available online, a four-pack unit of The Vini is priced from $35.80 to $39.80, and a case from $388.80 to $432, depending on variety (red, white, or mixed).
Companies in this article