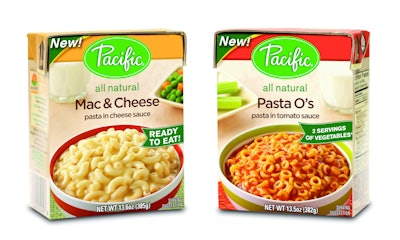 In a new application in the U.S. for liquid cartons, Pacific Foods has introduced all-natural versions of kid-friendly pasta meals in the Tetra Pak Tetra Recart carton. The Tualatin, OR-based organic food and beverage company launched its new All Natural Pasta O's and All Natural Mac & Cheese products in April in select natural food stores and grocers nationwide as "better-for-you pantry staples."
The shelf-stable products are made from high-quality ingredients, such as real cheese, cream, and butter, as well as vegetables, and contain no added colors, flavors, or preservatives. For this modern, "natural" twist on nostalgic favorites, Pacific Foods sought packaging that would retain the flavor of the products, and be free of Bisphenol-A.
As Tess Villas, senior brand manager of Meals & Sides at Pacific Foods, explains, "The Tetra Recart carton allowed us to package these classic meals in a BPA-free container, which helps to retain a fresh, homemade flavor that even the youngest taste buds can appreciate. The packaging is also extremely easy to open, making it simpler for kids to prepare the meals themselves—no can openers or scissors are needed."
The Tetra Recart, developed for retorted foods, uses the same technology as for metal cans and glass jars, with the different layers of the package providing protection for oxygen, light, and moisture. "Recart cartons have a thin profile and a very high ratio of surface area to volume," says Villas. "When retorting the carton, the heat penetrates the food much more quickly when it only has to reach the inside of the thin profile as opposed to a much larger mass in a round can. The result is less overcooking and better moisture retention. This also allows the product to maintain its natural texture, fresh taste, and delicate flavor nuances."
The Tetra Recart has six layers: (from the inside) polypropylene, aluminum foil, PP, paperboard, PP, and lacquer. From a sustainability standpoint, Villas says the carton is made from 65% paperboard—a renewable resource—and fits into many carton recycling systems.
Pacific Foods' new products are available in a 13.5-oz carton with a tear-off, laser-perforated closure strip on its top for easy opening. Graphics for the packaging, developed by an external agency and Pacific Foods' internal graphic designer, follow the overall look and feel of the brand's established design system. Says Vallas, "The primary graphics on the front panel include bold bowl shots of the pasta meals in a home environment to emphasize the flavor appeal of our comfort foods."
Villas shares that retailers have shown great enthusiasm for the package. "In fact, we are seeing more and more retailers transition some of their private-label lines that were packed in cans to the Tetra Recart package," she adds.
Pacific Foods' All Natural Pasta-O's and All Natural Mac & Cheese are priced from $2.99 to $3.29 for the 13.5-oz carton.
Companies in this article