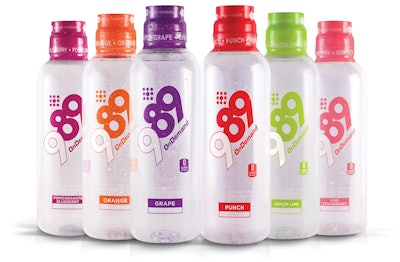 Product development specialists at H2M of Pompton Lakes, NJ, understood clearly that a rehydration beverage is best able to deliver nutrients to the body when those nutrients are kept separate from the beverage and added only at the moment of consumption. So they set about developing a cap that would make it easy for consumers to do just that.

Two design patents and a utility patent later, the firm launched 989 On Demand. With this drink, nine vitamins, 84 minerals, and five electrolytes are housed in the patented cap. The cap is applied to a 19-oz PET bottle of water filled by the reverse osmosis method. On the shelf, the beverage resembles any other bottled water. But when the cap's liquid contents are released, the 100 percent natural ingredients and flavors become optimally bioavailable to the drinker.

"This cap lets 989 On Demand deliver everything your body needs to rehydrate and nothing it doesn't, like sugar or carbohydrates," says H2M Charles Musumeci. "It's the best way for the body to utilize the nutrients.
"It's head and shoulders above competitive dispensing caps, and not just in the beverage category," he continues. "We are seeing potential use in the pharmaceutical arena and the spirits category, maybe even with certain types of consumer goods. With our utility patent, the door is open to change the way consumers around the world think of 'mixing,' since our cap delivers an exact amount on demand." Entry into sectors like pharma or spirits, he adds, would likely be by way of licensing agreements.

Others have developed "interactive caps" similar in their ability to isolate key active ingredients from the beverage until the moment of consumption. But H2M was never interested in a "me-too" approach. As senior vice president Greg Piagesi puts it, "No cap commercially available out there is anything like ours." He acknowledges that the closure does add some cost, but not enough to make the product uncompetitive.

CEO Musumeci says he'd prefer not to identify the firm that makes the cap, which comes to H2M from China. "We found ourselves in a relationship with some incredible people in China who are mold experts and tool designers," says Musumeci. "They work with all the blue-chip companies around the world."

Some cap details are available

What we do know about the cap is that it consists of two parts, both injection molded of high-density polyethylene. It holds either liquid or powder, but in the case of 989 On Demand it holds 7.2 mL of liquid. It's shipped in 1,000-count bags to CapTech Global in Madison Heights, VA. Formerly called CMAT Container, the new name has been in place since H2M's recent acquisition of the company.

At CapTech, the bags are emptied into the floor-level hopper of a feeder/orienter system that orients them so that each cap is facing correctly when it subsequently arrives at the peristaltic timed filling machine that fills the caps with liquid nutrients. H2M prefers not to identify the maker of the cap filler, either. But we do know that it's a rotary system with multiple stations. It twists the caps open in station one, which causes a plug to retract up and out of the cap's 1⁄4-in.-diameter orifice. In the second station, two nozzles discharge half the allotted liquid. In station three, two more nozzles finish the filling. Closing is next. As we saw in the station where the caps are opened, here again a twisting action is involved, except in the opposite direction. This time, it causes the plug to descend back into the cap's orifice, which results in a leak-proof seal. Musumeci sums it up this way: "When the two parts lock together, it results in an air-tight leak-proof compartment."

Significant is that no foil membrane or seal of any kind is used to hold the liquid inside the cap. This eliminates the possibility of a choking hazard.

In the final stations of the rotary cap filler, inspection, rinsing, and drying take place.

From CapTech the filled caps are again bagged and shipped to Adirondack Beverages in Scotia, NY. "We had a relationship with them for distribution of some of our products, and as we got to know them better it became clear that they are among the best copackers in the game," says Musumeci. "It only made sense for them to run this product."

Bottle filling and capping

At Adirondack Beverages, once again the caps are dumped into the floor level hopper of an Aidlin cap feeder/orienter. It feeds the caps to an Arol (www.arol.com) 12-head rotary capper that sits downstream from the 50-valve rotary filling machine, a "modified" Crown counterpressure filler.

The full-body shrink sleeve labels are applied by a Model HSA-300 machine from Tripack (www.tripack.net). According to production manager Dan Dubovik at Adirondack Beverages, the machine represents his firm's first experience with Tripack. "Cost, reputation, and what we saw others using all made us want to give this machine a try," says Dubovik. "Since then, we've installed two others on other lines."

Once labels are shrunk down tight to the bottle sidewalls in the Tripack heat tunnel, a Videojet (www.videojet.com) ink-jet coder marks the date and production code on the shoulder area of each bottle. Traypacking is done on a refurbished system followed by an Arpac (www.arpac.com) shrink wrapper. Palletizing is done on equipment that Adirondack already had in its plant.

Ask anyone involved in the manufacture of 989 On Demand and they'll readily acknowledge that making a cap in China, filling it in Virginia, and shipping the filled cap to a bottling line in New York is suboptimal from an efficiency standpoint. But like so many other new product launches, sometimes it's the launch itself that matters most in the beginning. There's always time to optimize manufacturing. Toward that end, H2M will soon begin injection molding the caps in its CapTech plant in Virginia. Also on the way is a new and improved cap filling machine that is being built by an OEM in the U.S.
Now available in retail outlets primarily in the east from Maine to Florida, the 19-oz bottles sell for $2.49 each or less. No multipacks are in the mix at present, but the firm is evaluating such a format.