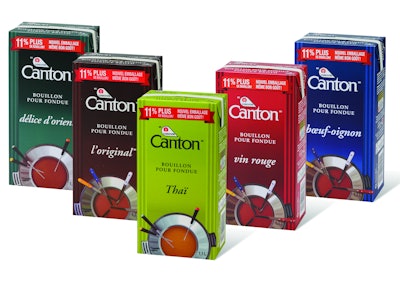 The ready-to-serve bouillons are now aseptically packaged in combiblocStandard 1,100 mL containers from Sig Combibloc. Varieties include Beef/Onion, Original, Oriental Delight, Red Wine, and Thai. To make them easy to open, the carton packs feature a V perforation. Further products are set to follow.
Stefano Bertolli, Vice President Communications at Lassonde, describes the move this way: "We've decided to go for a new, much lighter, more practical, and 'greener' packaging form that also better preserves the flavor and quality of our fondue bouillons. That's the end of the can for our bouillons." Packaged in carton packs, the premium fondue bouillons are optimally protected; the high quality is retained for a long time. In addition, carton packs are among the most environmentally friendly packaging solutions available for long-life foods, because they are made up to 75 per cent from wood, a renewable resource. As a result, they have a significantly smaller environmental footprint than all other packaging alternatives for long-life food products.
'Canton' brand fondue specialties have been selling on the Canadian market for more than 30 years, and until now have been offered in food metal cans. For Lassonde, some careful thought has gone into the decision to move to a new, contemporary packaging solution. Tim Kirchen, Head of Marketing and Business Development at SIG Combibloc North America: "In the US, a new awareness is developing in how people judge food packaging and how they handle it. Consumers are no longer seeing the packaging as just a protective container and handy shipping unit for food. Foods in convenient portion sizes, in packaging made from eco-friendly materials derived from renewable resources, are more and more in demand. This is where aseptic carton packs for foods and beverages come into play – carton packs tick all those boxes. Lassonde's decision to go for the carton pack is thus representative of the packaging trend in North America, which is moving from food metal cans to carton packs."
The carton packs for the 'Canton' brand fondue bouillons carry the label of the Forest Stewardship Council® (FSC®) with the trademark license code FSC® C020428. This label verifies that to manufacture the unprocessed paperboard from which the carton packs are made, only wood fibers were used that can be proven to originate from forests that are managed responsibly and to the highest standards and certified according to FSC guidelines, or from other controlled sources.
Because of their square base and light weight, carton packs are also the ideal logistical solution, says Bertolli – during transport, in warehouses, and on the sales shelf. Carton packs stack well, and secondary packaging can be kept to a minimum, using resources efficiently. This reduces emissions, cuts consumption of fossil resources, and lowers costs.
Another key factor in the decision to choose the carton packs from SIG Combibloc was the flexibility of the filling technology. Stefano Bertolli: "With the filling machines, we're able to fill a very wide range of food variants and package them for long life; liquid and more viscous products can be processed just as safely and gently as products with a high particulate content. And when it comes to volume and decor as well, there's plenty of scope". Lassonde is set to offer a full range of products in carton packs from SIG Combibloc in the near future.

Companies in this article