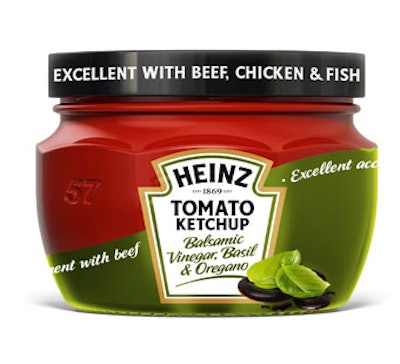 Ardagh Group partnered with Heinz in the development and manufacture of the container, which was carefully crafted to complement more consumers' mealtimes and was designed with adults in mind. The new ketchup range aims to drive new usage occasions by allowing consumers to spoon a generous serving of the flavor-filled ketchup onto more of their favorite meals.
Ardagh's development team in Poland collaborated with Netherlands-based FLEX/the INNOVATIONLAB, who provided them with a realistic prototype model. From this model, Ardagh's product development team was able to make calculations for producing the molds used in the glass manufacturing process.
Ardagh used special design features to prevent undercuts, and for mold manufacturing they used stronger AGN cast iron to produce the blow molds. They also developed a new approach for handling the molds, which, by eliminating all manual handling, has enabled them to extend the mold life.
Ardagh was able to successfully meet the challenge of creating detailed full body debossing, which gives the jar its distinctive Heinz identity. An eye-catching shrink sleeve complements the overall effectiveness of the package, which ideally suits premium usage occasions and table presentation.
"Our aim is for Heinz Tomato Ketchup to be enjoyed at every mealtime, and the new jar format means our consumers can simply spoon out and enjoy more often," says Emma Rumble, Senior Brand Manager at Heinz. "Launching our new ketchup range is another example of our continued commitment to developing new innovations that create excitement in the category."
Companies in this article