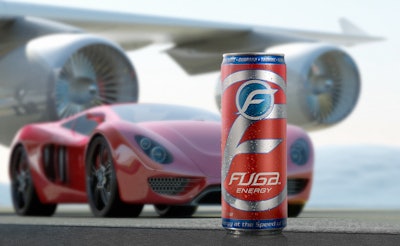 "Energy at the speed of life." That's the message behind Fuga, a new energy drink recently introduced in 12-oz SLEEK cans from Rexam. Bursting with flavor, Fuga is made from the natural energy resource Yerba Mate, which is said to offer the strength of coffee, the health benefits of tea, and the euphoria of chocolate. Fuga's array of herbal ingredients also includes prickly pear cactus, ginkgo biloba, guarana, milk thistle, and acai, as well as essential vitamins and amino acids to support overall health and well-being. The beverage is available in regular and sugar-free varieties.
"Fuga is a Latin and Spanish term that means to 'take flight,' which makes it the perfect name for our breakthrough energy drink because of its active, energetic, and ascendant meaning," says Miguel Camarena, CEO at Aquarena Beverage. "When we started this company, we set out to create an energy enhancer that doesn't overstimulate or make you feel jittery, but gives you just the right amount of consistent, long-lasting energy, from a healthy source. We succeeded in that mission, and through our partnership with Rexam, we introduced it in a great-looking SLEEK can that will attract consumers' attention."
Aquarena Beverage chose the Rexam SLEEK can for Fuga because it helps the beverage stand out on retail shelves, and it is a sustainable packaging choice. As Rexam notes, aluminum cans are recycled at more than double the rate of most other beverage packages.
Says Rich Grimley, president and CEO of Rexam Beverage Can North America, "Our 12-oz SLEEK can is extremely popular in the energy drink market because of its consumer appeal and the fact that it delivers superior environmental benefits as well as distribution and retail display economics. This makes it the perfect packaging solution to help Fuga establish their brand and build their business."
Fuga is available now at select retailers in Florida, Texas, California, New Mexico, and Arizona.
Companies in this article