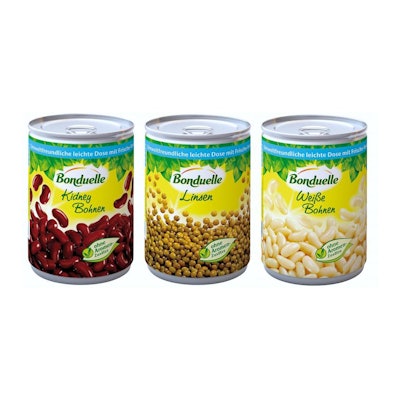 The development of this can, made by Ardagh Group, represents a significant advance in DWI (Draw and Wall Ironing) can production and processing technology. For the first time in food canning, it employs nitrogen dosing techniques similar to those used in the beverage industry. The internal pressure that builds inside the can as a result of nitrogen dosing compensates for the fact that the 400-g can uses 15% less steel than current best-in-class cans. Ardagh estimates that if 1 billion cans were to convert to the new design, the material saving would be equivalent to the weight of metal in the Eiffel Tower. This also translates into a reduction in carbon footprint estimated by Ardagh to be in the region of 15 per cent.
The introduction of nitrogen dosing in a consistent and controlled way, and how best to accommodate the increased internal pressure upon the can bottom and end, presented a design challenge to the Ardagh team. This was successfully met, and a completely redesigned and re-engineered can is now able to withstand pressures of up to 4.5 bar.
The concept for this type of can goes back six years when a pilot line was commissioned at Ardagh's R&D centre in Crosmières, France, based on Finite Element Analysis (FEA) techniques established several years earlier to numerically calculate suitable can concepts and design. The project started in earnest in May 2011 once the first patent was granted, covering both can geometry and shape in addition to the re-engineered easy open end and new pressure resistant can bottom.
The Bonduelle cans are made at Ardagh's DWI advanced production facility in Deventer in The Netherlands. Filling is done at Bonduelle's facility in Vaulx Vraucourt, Northern France. The first application of the stylish new packaging is on Bonduelle's Winter Vegetable range (Red Beans and Black Beans), to be followed by the gradual rollout on other products in their canned vegetable range.
"Through close cooperation with Ardagh, we are delighted to continue Bonduelle's track record of being first to market with new product innovations. This new concept contains so many benefits for the consumer, and is a true success story for sustainable metal packaging," says Bonduelle commercial and marketing director Agnes Dion.
Following heavy recent investment in DWI technology throughout the Group, Ardagh confirms that the new style cans are suitable for production at its European production facilities, and that it has successfully carried out tests on cans for other food products.
Companies in this article