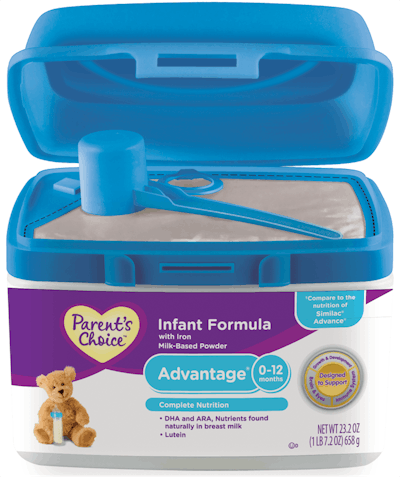 A new infant formula tub offers multiple convenience factors for Moms and baby caregivers. Specifically, Perrigo Nutritionals' Store Brand Infant Formulas' new SmarTub™ packaging, which has been granted patents and patents pending, includes the following features:

• An AccuMeasure™ scoop leveler for more accurate feedings
• CleanPull™ technology that easily removes a foil liner with one pull
• SimpleSlide™ scoop storage for less mess
• A longer scoop handle for more hygienic scooping
• A 100% leak detection system that improves quality and freshness
• Anti-theft tag compatibility that protects the product where it is sold in retail stores
Allegan, MI-based Perrigo Nutritionals describes itself as the leading infant formula company that supplies mass retailers, grocers, and drugstores with their own store brand formulas. The SmarTub packaging innovation is a result of a three-year project that began with extensive competitive analysis and consumer research. The new line was developed at the Perrigo Nutritionals ISO 9001:2008-certified manufacturing facility in Georgia, VT. Perrigo Nutritionals invested $29 million in a state-of-the-art packaging line, which led to the employment of 285 installation/commissioning personnel, and 21 vendors, and the creation of 20 new jobs for local residents.

The Vermont manufacturing facility has a 25-year history that spans ownership and operations from Wyeth to Perrigo, manufactures infant formula 24 hours a day, seven days a week, and, together with an additional facility in Ohio, is capable of producing 65 million lb of powder formula a year. Today Perrigo Nutritionals produces 11 different formulas that are sold in more than 68 major retail chains including Walmart, Sam's Club, Target, Kroger, Babies R' Us, and other leading U.S. retailers. Perrigo's vitamins, minerals, and supplements are marketed under store-brand labels of leading retailers in the food, drug, mass-merchandise, and wholesale club channels, and include nearly 400 formulas of dietary supplements. The new plastic tub infant formula packaging is available at Walmart through the company's Parent's Choice™ brand, at Target in its up & up® offering, at Sam's Club under its Simply Right® product, and at other leading retailers.

SmarTub development
George Salg, director of engineering, focuses on strategic capital initiatives, equipment, and manufacturing at the Nutritional facilities. He explains, "Our traditional container always was a round, cylindrical tin. More recently it changed to a round composite container. Now we are transitioning to rectangular plastic tubs. The benefits of the change to this container are hygiene, marketing appeal, maintaining our position of advancing packaging technologies, better appearance, and convenience. Our goal is an enhanced overall user experience.
"There are quite a few advantageous features for the consumer—it's easier to handle, easier to open, easier to scoop from, and easier to remove the powder. We have a built-in leveling device to make it easier for the user to accurately measure and dispense the product. We also have a scoop holder to help promote hygiene and sanitation."
All the convenience factors support product quality, which Salg says "is absolutely paramount in infant formula." The SmarTub is produced in 24-, 40- and 48-oz sizes. The white base tub is blow-molded of a multilayer high-density polyethylene that includes an ethylene vinyl alcohol barrier. The injection-molded polypropylene lid includes foil lidding that is induction-sealed to the mouth of the base tub following filling. The company preferred not to provide packaging material supplier details.
The container features a molded-0n scoop and scoop holder above the opening for easier and more sanitary access, scoop leveler for more accurate feedings, optional Electronic Article Surveillance (EAS) tag and nesting pocket under the container label, an EZ-Pull Ring that removes foil cleanly without tearing, lid and tub welded together for enhanced tamper-reistance. Tubs receive pressure-sensitive labels on the new line as well.
Salg explains that he and his team were responsible for the design and development of the container, as well as procuring the equipment globally to support the SmarTub project. "Our entire team is very proud of the container and the line. It took a lot of hard work and teamwork to pull this off," he says.
Usage instructions and videos of the new packaging are available online.