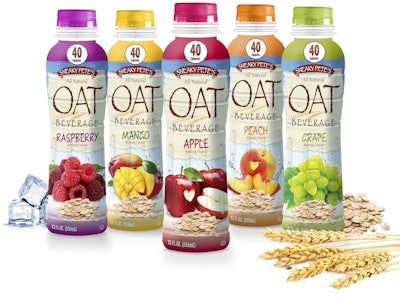 The firm launched its all-natural beverage in a stock PET bottle about a year ago. The new bottle, says brand manager Laura Barrett, is a 12-oz hourglass-shaped PET bottle that's custom made for Sneaky Pete's. A full-body shrink sleeve label completes the package.
Barrett chooses not to identify bottle maker or label supplier, but she does indicate that the innovative product is produced and packaged at contract manufacturer Lidestri Foods. "Sneaky Pete's new look and packaging more effectively communicates to consumers the true benefits of our revolutionary oat-based beverage," says Pete J. Stilianessis, founder and CEO of the company.
One serving of this beverage, which is priced at $1.99, is said to deliver the same nutrients as a bowl of steel-cut oatmeal.

Companies in this article