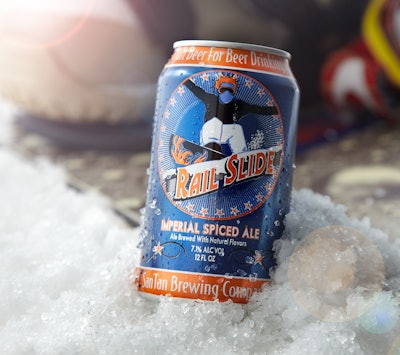 Until now, SanTan Brewing's lineup of seasonal brews has been available only on tap at participating restaurants, pubs, and breweries throughout Arizona. With the help of Rexam, a leading global beverage can maker, SanTan is now in full production and ready to launch their seasonal canned beer series. (For more on craft beer in cans, click here).
The first seasonal brew to see the inside of a mini keg will be SanTan's newest seasonal, Rail Slide Imperial Spiced Ale. Rail Slide is brewed with winter flavors that add an edge to this smooth, spiced ale. This seasonal ale reflects the adventurous efforts that have come to symbolize the American craft beer movement and celebrates the constant innovation that evolves our very pallet. Rail Slide boasts a bold 8.1% ABV, and it's now available in Rexam 12-oz. cans as well as on tap.
SanTan seasonal brews are created to reflect the brewery's mission of pairing craft beer with craft food. That is why they once again collaborated with local restaurateur Joe Johnson of Liberty Market to create a blend of winter spices for the Rail Slide Ale that will complement the comfort foods of winter while offering a new overall culinary experience.
"Our seasonal brews are in high demand, so we've decided it's high time we made them as available as our core brews," said Anthony Canecchia, owner and head brewmaster of SanTan Brewing Company. "Now, by teaming with Rexam, our fans will be able to take their favorite SanTan seasonal along on their next CanVenture."
SanTan Brewing Company has been preaching the benefits of canning since they launched into distribution two years ago, and currently offers their four core brews – Devil's Ale, HefeWeizen Wheat, Epicenter Amber Ale, and Hop Shock I.P.A. – in Rexam cans.
As made evident by the 2nd annual and wildly successful Ameri-CAN Canned Craft Beer Festival, the can is here to stay for many reasons, including its portability and the fact that it scores sustainability points with a recycle rate at more than double any other beverage package. Cans also preserve the taste, quality, and craftsmanship that goes into creating handcrafted beer.
Companies in this article