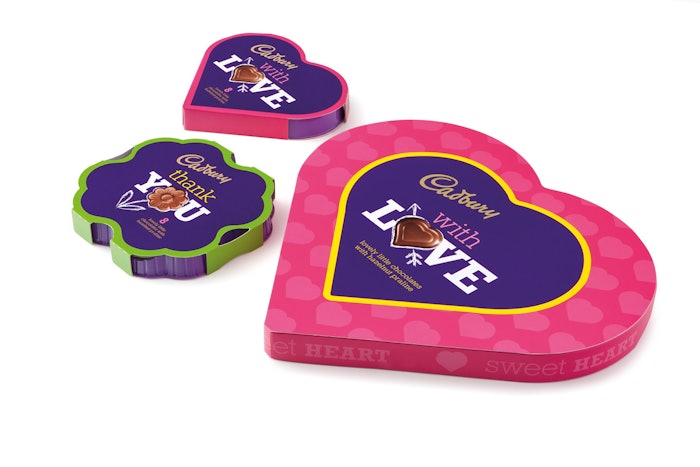 Pearlfisher has created the brand strategy, naming, tone of voice, range identity, and packaging design for the new chocolate gift range "Say it with Cadbury."
Embracing the brand's spirit of Joyville—the magical place where Cadbury cholocates are made— the new range aims to get chocolates back on the gifting radar by reconnecting with the joy at the heart of giving them as gifts. Say it with Cadbury needed to strike the right balance between the thought and care of the giver, and the experience of pleasure and pride of the receiver, says Pearlfisher.
The chocolate praline range features heart- and-flower shaped boxes in two sizes, targeting those searching for Valentine's Day and Mother's Day gifts, respectively. The smaller, 48-g boxes, or "Unplanned Tokens," are based on the idea that the best gifts are unexpected. These little boxes of eight chocolate pralines enable consumers to share the joy with spontaneous gestures that can act as top-ups to main gifts. The larger, 180-g boxes, or "Thoughtful Surprises," enable consumers to share the joy at key occasions throughout the year, with ready-to-gift chocolates.
Says Pearlfisher creative director Sarah Butler, "Say it with Cadbury needed to bring a smile to the eyes by bringing joy back to gifting. The design needed to light up the category with lighthearted emotion and make the giving of Cadbury's chocolates an easy pleasure."
Both the heart and the flower designs extend the color and borders from the larger box to the smaller box range of the same shape. The vibrant color palettes of each design stand out on shelf and appeal to those looking to buy gifts for key occasions. While the vibrant pink and purple of the heart initially appeals to consumers looking for Valentine's Day gifts and the spring-like yellow and green of the flower is perfect for Mother's Day, the versatile colors and on-pack messaging mean they can be used for any occasion throughout the year.
The brand's tone of voice aims to delight, without ever trying too hard, Pearlfisher says. Front-of-pack messages deliver simple lines, such as "With Love" and "Thank You." Secondary messages, such as "Give Your Heart" and "Pick Me" on the layer inside the box, introduce more playful, joyful language, says Pearlfisher.
The first of the new Say it with Cadbury range is now available in stores across the U.K.
Companies in this article