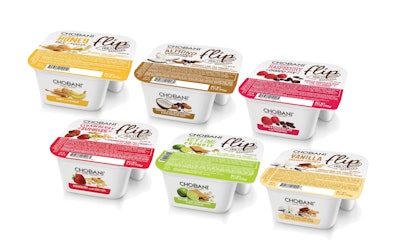 Top-selling U.S. yogurt brand Chobani of New Berlin, NY, has upped the Greek-style yogurt ante, introducing several new line extensions in unique flavor and packaging options. Among them are six varieties of Chobani Flip in a two-compartment polystyrene package that allows consumers to "just flip the lid and add bold, delicious mix-ins to authentic strained Greek yogurt," says the company.
"Chobani Flip was designed to give consumers an amplified yogurt experience," explains director of marketing Niel Sandfort. "We call it a '1 + 1 = 3' equation, as you pair flavored Greek yogurt with a purposeful mix-in on the side compartment to create an expertly crafted pairing."
Varieties are both decadent and healthy: For example, Key Lime Crumble features Key Lime low-fat yogurt with graham crumble and white chocolate, while Vanilla Golden Crunch pairs vanilla non-fat yogurt with cornflakes, honey oats, and pecans. Other flavors include Strawberry Sunrise, Honey Beenana, Almond Coco Loco, and Raspberry Choco Fix.
Packaging is a 5.3-oz cup that duplicates the style of some other two-part yogurt packages on the market, but offers a new square footprint. Sandfort says the structure was designed in-house by Chobani to be a flippable container, where the smaller compartment holding the mix-ins can be flipped over to empty its contents into the yogurt. He adds that the foil lid allows for a more premium experience than plastic, allowing the user "to unveil the ingredients bit-by-bit, in a way a plastic lid would not."
Chobani manufactures the cups in-line in a thermform/fill/seal process that required the purchase of proprietary new, state-of-the-art packaging equipment. "Finding the right vendor that could not only form the cup how we wanted it, but also fill it took some time," relates Sandfort. He adds that the technology allows Chobani to produce a thinner-walled cup, allowing for a reduction in plastic use.
Package graphics, created by design firm Little Fury, appear on the foil lid, as well as on a sticker on the side of the cup, and include a handwritten logo and product names, and product ingredient photography. "We wanted to focus on articulating the deconstructed ingredients," Sandfort explains. Providing personality, each flavor offers a different font and treatment that speak to its specific attributes, he adds.
Bright colors align with the primary product flavors—red for strawberry, gold for vanilla, etc.—and complement ingredient photography. "We photographed the real ingredients in an actual photoshoot; there are no stock images," says Sandfort. "These are real compositions with the actual pieces of ingredients. And what we show in the cup is true to what is actually in the cup."
"The fun design and colors allows us to attract nonusers who may be hesitant to enter into the Greek category," he adds.
Two SKUs of Chobani Flip were introduced in the Northeast in July 2012; the full six made their debut there in January. At presstime, the product is scheduled for nationwide launch in March. The yogurt line is sold in single cups priced at $1.39 apiece.
Other Chobani brand line extensions making their debut in January include Chobani Bite "guilt-free" snacks in four flavors, packaged in "perfectly portioned" 3.5-oz cups; Chobani Champion Tubes, comprising stick-packed yogurt for kids made with real fruit and natural ingredients; and two new flavors for its 6-oz line, the "countlessly requested fan favorites" of Pear and Banana.
Companies in this article