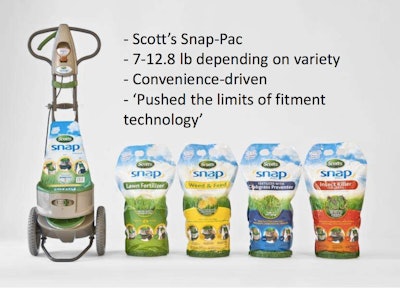 What happened at October's Pack Expo 2012 in Chicago? News, insights and innovations that will resonate through 2013 and beyond. The news has been too extensive for one story or even one medium. That's why the editorial staff at Packaging World has posted 139 videos to bring you the best of the show floor; scores of stories and audio podcasts that literally speak for themselves (links below); and news from a session on the most innovative packaging developments of the year, presented by Pat Reynolds, vice president and editor-in-chief.
Reynolds' session revealed, among other trends, some "big" developments in flexible packaging—in more than one sense of the word.
Packaging trends: Big on flexibles
Speaking to session attendees, Reynolds presented recent innovations that indicated where trends are moving for 2013. He noted that flexible packaging remains a dominant packaging material in the $144 Billion U.S. packaging market. Not counting corrugated, with its 22% share of material usage, flexible packaging commands the lion's share of primary packaging use, with 49% of applications dedicated to retail food products. At the same time, new applications are coming on strong.
Flexible retail offerings continue to offer convenience, evidenced by shaped stand-up pouches with easy-dispensing fitments. Reynolds noted that flexible packages have gained prominence partly as a replacement for traditional HDPE (high-density polyethylene) and bag-in-carton formats.
In particular, flexible packages in larger sizes have moved on these formats, exemplified by larger foodservice packages by Smart Bottle Inc., and the 2012 rollout of Kraft's YES pack. The latter refers to a 1-gal side-gusseted stand-up pouch for salad dressings that feature with dual handles on top and bottom and a rigid screw-cap closure; it replaces traditional rigid plastic containers, and features significant green benefits.
Scott's Snap-Pac lawn spreader with a specially designed "cartridge" pouch system is another example, in another category of an even larger flexible format. (See Fig. 1, above.) The company continues making big-and-flexible inroads with its bottom-gusseted 8- and 16-qt stand-up bags of Miracle-Grow with resealable zippers, as reported in a November 30 Packaging World story.
Package innovations beyond flexible
Flexible packages weren't the only stars to try innovative closures, evidenced by the resealable, reusable latex cap that paved the way for the first whiskey in a can from Scottish Spirits, which launched its 12-oz aluminum can of single-grain Scotch in March of 2012. (See Fig. 2, above.)
Reynolds also reviewed product trends in other areas, and noted industry trends. Citing, a "new world for CPG companies," cited packages that offer sustainability along with additional consumer benefits. These included the squared-off containers from Sunny D juice brand that are easier-to-pour, easier-to-store and more supply chain-efficient; and a major shift for PepsiCo's Tropicana brand from a variety of cartons and bottles to exclusive use of clear PET containers for all four sizes of its Tropicana Pure Premium (TPP) brand—and for its new 89-oz container, a flip-top closure and a ring-pull opening component beneath the flip top. (See Fig. 3)
On the healthcare front, compliance and patient adherence-enhancing packages facilitate dosing, even "calendarized" designs (See Fig.2). As Sandy Kinsey, VP Pharmacy Merchandising, Walmart, said of the retail giant's endorsement of packages such as the Ecoslide-RX, "It is our hope that industry will join us in these efforts and eventually migrate away from traditional vials for the benefit of the customer."
In addition to patient adherence, ease of opening, and safety benefits, that package offers sustainability benefits. Elsewhere on the sustainability front, Reynolds cited examples of recyclable and otherwise green packages across the consumer goods spectrum.
Reynolds also cited other, more general trends including the rise of private label packaging, which now competes more directly with branded items; the rise of digital printing; nanography, or the use of sustainable, nano-sized pigments for use on untreated stock; 3D printing; sustainable retail-ready and multi-pack developments; and operational issues from automation/controls to the aging workforce.
Audio 'casts will ease your work commute
Even those who were Pat Reynolds, vice president and editor-in-chief of Packaging World, posted podcasts each of four days the expo was open. Here's a summary of the innovations he discusses each day:
Day One, Oct. 28: A new approach to the way hot melt adhesives are dispensed; a customizable beer bottle program from Heineken; color-on-demand label production capabilities; and clarifying agents that could make clear toothpaste tubes much more popular.
Day Two: Oct. 29: Conformable labels on curved shampoo bottles; shrink sleeve label material that separates easily from PET flake; regenerative energy ideas on servo motors; new robotic software that simplifies setup; much higher barrier in pharma materials; and a specially designed vacuum pickup cup that could make robotic handling more popular in snack bag packaging--all this and more on day two at Pack Expo.
Day Three: Oct. 30: An innovative powder-dispensing cap; a full-body shrink sleeve label called Eco skin that simplifies separation of label material from PET flake; a "roll-and-blow" concept that feeds rollstock into a machine that makes bottles for drinkable yogurt; and a demo showing how Profinet and Ethernet can coexist on the same network.
Day Four: Oct. 31: Cloeren's Nanolayer Feedblock; an aseptically filled standup pouch with an incredibly innovative dispensing spout; more label material development aimed at helping recyclers separate PET flake from contaminants; the use of magnets to attach and remove fill funnels on a high-speed rotary filler; and a robotic case packer that switches readily from RSC to retail-ready display case.
Finally, you can access all the 2012 Pack Expo coverage at Packaging World's show coverage portal, and revisit the event at PMMI's Pack Expo 2012 site.