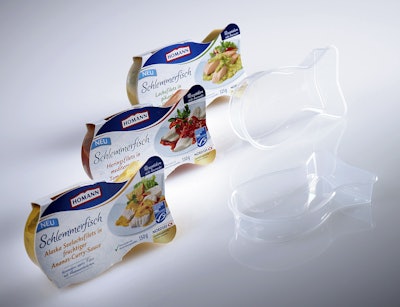 "Especially when launching a new product range, it is helpful if the packaging is really eye-catching," says Frank Kriener, production manager at GIZEH, the maker of the tray. "Our new fish-shaped dishes are eye-catching without being obtrusive and garish, meaning they really fit with Homann's high-quality brand image."
In addition to the innovative shape, the weight of the packaging was also an important criterion to be taken into consideration during development. Holding 125 or 150 g of product, the injection-molded PP dishes feature very thin walls. The packaging is microwavable, meaning the contents can be served either hot or cold. The dish is sealed with a foil lid and is covered with a fish-shaped paperboard sleeve. GIZEH has registered a design patent for the dish.
Of particular note was the short development time – there were only 12 weeks between the contract being awarded and the initial production. Homann Schlemmerfisch is available now in three different varieties in the chilled goods aisle in all good supermarkets.