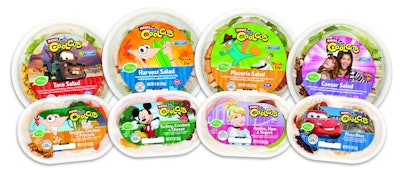 In line with the nutrition guidelines it established in 2006 for kids three years and older, The Walt Disney Co. has joined with fresh convenience foods producer Ready Pac Foods to launch a line of Disney-themed fresh salads and mini-meals geared toward elementary and middle school children. The eight varieties in the Cool Cuts® line are packed in convenient, lidded plastic bowls adorned with colorful cartoon labels depicting some of Disney's most beloved characters, such as Cinderella and Mickey Mouse, that both Disney and Ready Pac hope will entice kids into healthier eating habits.
According to the USDA and the Alliance for a Healthier Generation, an estimated 25 million children (ages two to 19) in the U.S. are currently overweight or at risk of becoming overweight. Ready Pac says Cool Cuts have been designed to help kids get their recommended three-plus daily servings of fruits and vegetables. Each variety is designed with kids' taste in mind, offering nutritious versions of their favorite foods. For example, Pizzeria Salad contains romaine lettuce, along with reduced-fat mozzarella cheese, pizza flatbread chips, mini turkey pepperoni, and a pizza ranch dressing.
Says Ready Pac director of marketing Tristan Simpson, "Our Disney-themed Ready Pac Cool Cuts salads and mini-meals packaging appeals to kids' sense of fun and love of Disney characters, to moms because they can quickly see the healthy ingredients, and to produce retailers because the packaging draws young parents to the fresh-cut produce display."
Four varieties of mini-meals are packed in 2.5- to 3.15-oz oval, segmented bowls that contain at least one kid-sized serving of fruit, along with healthy snack combinations. A Disney-themed sticker completes the kid-friendly pack. For salad varieties are packed in round bowls in 4- to 5-oz sizes and come with a temporary tattoo that matches the Disney character on the label. Ready Pac declined to provide specifics on the packaging and its suppliers.
Cool Cuts were introduced to retail stores nationwide in September for a suggested retail price of $3.99 for the salads and $2.99 for the mini-meals. In October, the Produce Marketing Association (PMA) presented the line with an Impact Award for Excellence in Packaging.
Companies in this article