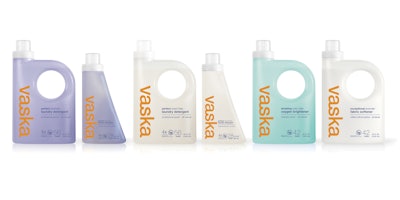 Vaska Home Products, headquartered in Berkeley, CA, specializes in uniquely formulated laundry cleaning products for delicate fabrics and sensitive skin. Free of irritants, toxins, pollutants, dyes, and binding agents, these 100%-biodegradable detergents contain natural ingredients derived from herbs, plant-based surfactants, and water-soluble degreasing agents, as noted on the company's Web site, www.vaskahome.com. The Vaska formulations have been certified "natural" by the U.S. Environmental Protection Agency.

Vaska initially focused on regional institutional customers, such as the San Francisco Giants baseball team. But, from the end of 2009 through 2011, Vaska made expansions to its retail product line. The company wanted the packaging for these retail products to be equally unique and environmentally friendly as the formulations. While the original recyclable plastic container design was well regarded, the bottles were not particularly cost-efficient in terms of their printing and decorating.

The original plastic bottles had been decorated by direct screen printing, which achieved the desired look, but at a relatively high expense. Vaska wanted to replicate the look of these stylish, transparent plastic bottles, but at a more reasonable cost. Transparency was a hallmark of the Vaska bottle and brand. So it was imperative that any new bottle and label design incorporate the transparency feature.

Perfect bottle/label alliance

Plastic bottle blow molder Silgan Plastics had been supplying the plastic bottles to Vaska that were direct screen printed. The Silgan and Vaska teams joined forces to redesign the containers to make them more in-mold-labeling-friendly without jeopardizing the desired bottle look, while also keeping costs down.

Silgan reps brought Vaska and IML specialist Yupo Corporation America together, and the companies, along with expert assistance from label printer Hammer Packaging, came up with an excellent solution for Vaska's clear plastic bottling and labeling needs.

After exploring various bottle options, Vaska and Silgan decided on transparent 21-fl-oz "wedge-shaped" bottles weighing 44 grams and 42-fl-oz handled bottles weighing 80 grams—each made from high-density polyethylene (HDPE).
The 42-fl-oz bottle presented more labeling challenges, due to the shape and handle area. Silgan ran bottles several times before finding the right combination of tooling and process to achieve a good-looking, functional container.

For its labeling approach, Vaska chose the UltraClear™ clear in-mold-labeling (IML) substrate technology available from Yupo Corporation America. The Yupo UltraClear labels are molded into Silgan clear plastic bottles, produced on continuous extrusion blow-molding equipment from Bekum (www.bekumamerica.com). Yupo's 100-micron UltraClear IML synthetic label substrates are well-suited to the application. They allow for the unique aesthetic qualities of the liquid detergent to show through the tinted color of the bottles, creating a premium-looking package. The labels are linerless, adhesive-less, and fully recyclable, with the primary resin being polypropylene. Furthermore they are designed to accommodate a broad variety of container demands—including asymmetrical shapes, compound curves, and recessed panels, as well as fluorescent and metallic ink printing.

Vaska and Yupo chose to work with Hammer Packaging on the label printing because Hammer has a reputation for outstanding service and offers multiple web-based formats, including both flexography and offset capabilities, that could handle the label printing and conversion. Hammer technicians made adjustments to accommodate the UltraClear label film grade and relatively low stiffness. Vaska was very involved in developing the label graphics, and Hammer made design changes and created unique ink formulations to achieve the look and feel that met Vaska's expectations.

In addition, several trials were conducted to develop an optimum-performance proprietary coating for the labels. After printing and register sheeting, the printed labels are die-cut using counter-pressure die-cutting.

The clear labels show through the transparent bottles, regardless of clear bottle color. And the color of the product inside the packaging shows through both the 21-fl-oz "wedge" and 42-fl-oz handle bottles and labels. Typical retail costs for the products are $8.99 for the 21-fl-oz size and $13.99 for the 42-fl-oz size.

The bottles are filled using equipment from ABF-American Blending & Filling. The plastic spouts and caps are supplied by Berry Plastics.

Designed for success

The Yupo UltraClear labels have saved money for Vaska because the IMLs cost considerably less than the direct screen printed versions and don't involve a label inventory transportation or storage step. The label appearance is high-quality and, in fact, is sharper and crisper than the original design.

The new Vaska bottles have received positive consumer reception. Eric Boyce, ceo and President of Vaska, says, "Although the product is much more than its packaging, everyone comments on the design of our bottles."
Companies in this article