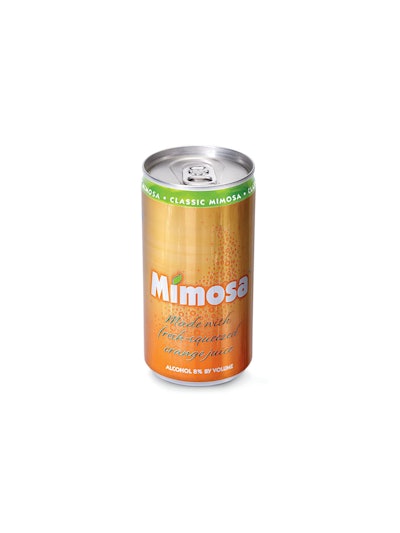 Southwest Wines of Deming, NM, launched its recently renamed Soleil Mimosa™ in a new sustainable package for consumers on the go—a 187-mL aluminum slim can from Ball Corp.
Also known as St. Clair Winery, Southwest Wines has produced its Mimosa beverage for more than 25 years. The ready-to-drink beverage blends premium sparkling wine with fresh-squeezed orange juice, is sold successfully across the U.S.
Earlier this year, St. Clair Mimosa beverage was renamed Soleil Mimosa to better capture the essence of the brand. Today, Soleil Mimosa launches in single-serve slim cans, bundled in easy-to-grab-and-go four-packs.
Aluminum cans offer recyclability, provide graphic appeal, and are becoming increasingly popular for wines as a lightweight, unbreakable alternative to traditional wine packaging.
"The 187-mL slim can is a game-changing packaging solution with respect to our pre-mix Mimosa, and more broadly speaking, to the premium wine industry in general," says Robert Roeloffs, marketing manager for Southwest Wines. "The aluminum can format establishes our brand identity and reinforces the key aspects of our Mimosa product—namely its high freshness and refreshment qualities, convenience, portability, and fun factor."
Southwest Wines is a sixth-generation, family-owned and operated winery in Deming, NM. Today, it is the largest winery in New Mexico, producing more than 300 wines, including 50 produced under its own brands. Another 250-plus wines are produced on behalf of national retailers and wineries under private- or control-label offerings.