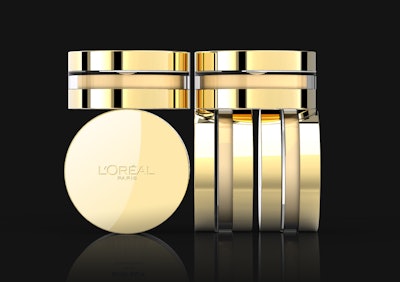 The U.S. launch of L'Oreal Paris' Visible Lift Repair Absolute was executed in partnership with Rexam Personal Care Group.
The intricate, multi-part, compact developed for the make-up formulation was handled by Rexam, including its Asia facility's production, plastic injection, metallization, assembly, and airtight technology. Program management was based in France, for close proximity to L'Oreal management.
The elegant compact, designed by L'Oreal, incorporates several features that enhance both form and functionality. One is an acrylonitrile butadiene styrene (ABS) screw cap that features a shimmering white gold metalized finish and is embossed with the L'Oreal Paris logo. It is assembled with an integral liner, supplied by MGJ, a France-based container seal specialist, for an airtight fit that prevents drying of the volatile formula.
The jar is made of clear, thick-walled PETG, which provides a crystalline, glass-like affect and a sense of visual depth. A pin-hinge joins the jar to a shiny white-gold metallized ABS base that houses a sponge applicator from The Penthouse Group, a supplier of cosmetic applicators and accessories. A carefully designed notch results in an auditory "snap" when the base and jar are closed. This, along with the overall look and weight of the compact, is designed to help communicate luxury to the end user.
Companies in this article