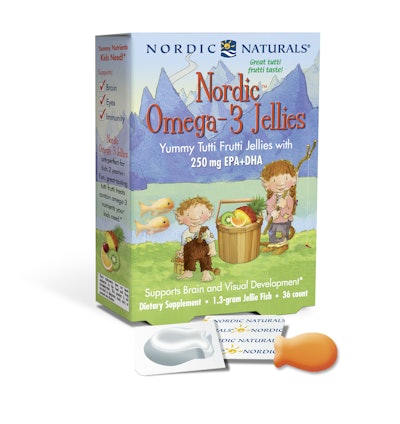 Nordic Omega-3 Jellies™, the latest in Nordic Naturals® line of kid-friendly essentials!, are fish-shaped jellies that aim to please kids while pleasing parents with their high omega-3 concentration and on-the-go convenience.
The dietary supplements are made from purified fish oil sourced from anchovies and sardines, and then specially formulated for children ages 2 and over. Each graphically appealing box contains 36 fish-shaped jellies, individual packaged, with nine supplements/blister sheet, and four blister sheets/box.
When asked, Watsonville, CA-based Nordic Naturals Inc. considered packaging details, filling process, and supplier information proprietary. They do say that the Nordic Omega-3 Jellies contain 250 mg of EPA+DHA per chewable jellie, and are "packaged in easy-to-open packs for freshness and convenience.
"When formulating this product, we focused on a chewable omega-3 that delivered on dosage and taste, plus convenient packaging that would delight parents," says Dr. Keri Marshall, Nordic Naturals' chief medical officer. "Children want a fun product that tastes great, while parents want concentration and convenience. This product is a win-win!"
Based in Watsonville, CA, Nordic Naturals is committed to delivering safe, effective omega oils. Distributing to more than 35 countries, Nordic Naturals offers more than 150 products in a variety of flavors and formulations, including omega oil supplements for adults, kids, athletes and pets.