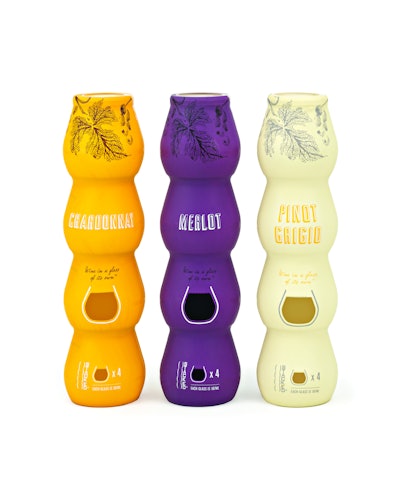 Over the past several years, a number of new packaging formats have been introduced for wine that depart from the traditional glass bottle. Among these have been innovations in aluminum cans, liquid cartons, PET bottles, and even pouches. Some of the packages have been developed to offer a single-serve solution, while others provide greater portability and allow consumers to enjoy wine in venues where glass is a less convenient option. Many times, however, consumers perceive these products as subpar-quality wines.  
In March 2012, Newport Beach, CA-start up Stacked Wines, LLC launched a portable, single-serve PET wine package backed by more than 18 months of product and package engineering that provides both quality and convenience. Packaging for STACKED®, which comprises four interlocking, stackable stemless PET wine glasses bundled in an eye-catching shrink-sleeve label, uses proprietary technology to provide up to a 14-month shelf life, a sophisticated drinking experience, and a supply chain-friendly footprint.
The line's three California wine varietals—Pinot Grigio, Chardonnay, and Merlot—are also said to have been created by the company's in-house sommelier with light and refreshing flavor profiles designed to match the casual venues in which they are meant to be enjoyed.
"This is not just a packaging concept," confirms Jodi Wynn, co-founder and vice president of marketing and business operations for Stacked Wines. "It's a premium wine that offers convenience. We don't see this as just a novelty; we see it as an improved way to package premium wine."
Enabling technology developed
The STACKED wine concept was the inspiration of company CEO Matt Zimmer, who came up with the idea back in mid-2010. An MBA student at the University of California, Irvine, at the time, Zimmer had his "Voila!" moment after he suffered through some stale wine from a bottle that had been opened several nights earlier. Having a mechanical engineering and packaging background, Zimmer believed there had to be a better way to package wine in smaller servings to keep it fresh. "He literally drew a bottle of wine and put four lines through it," Wynn recalls.
Over the next year and a half, Zimmer, along with fellow MBA students Wynn and Doug Allan, a sommelier and certified wine educator, developed the packaging technology and flavor profiles for STACKED. Wynn explains that being able to tap into the resources of the university proved a great advantage for the Stacked Wine co-founders. "The school really helped in both guiding us and putting us in touch with the correct people," she says. "I think we avoided some of the challenges that other start ups might face because we had so much guidance."
The co-founders also employed the technical and beverage specific expertise of R&D/Leverage, which offers both structural brand development and mold manufacturing capabilities, to develop the structure. Says Zimmer, "R&D/Leverage was highly recommended by an industry source. We needed expertise into how to commercialize our vision. And with so many launches in our industry, time was of the essence, since we compete against standard bottles wines and boxes wines, which are increasingly popular.
"As a start up, with limited capital and a new concept, we needed to get into production fast and have the design and tooling right—the first time. R&D/Leverage proved to be a great partner to work with, and they delivered on all counts."
Central to the STACKED wine concept is a proprietary technology called Vinoware™. Vinoware combines packaging constructed of oxygen-barrier PET, with a filling and sealing process that eliminates oxygen from the package headspace and ensures a vacuum seal, enabling a 12- to 14-month shelf life. Putting this advancement in context, Wynn explains that "very few wines in PET packaging have a shelf life longer than three to six months."
Stacked Wines worked with R&D/Leverage to develop the structure of the single-serve PET container, which was designed to resemble a stemless wine glass, to offer consumers a more sophisticated drinking experience than offered by some other single-serve options. Each container is also engineered on top and bottom to snap "like a Lego" into another STACKED container, explains Wynn.
According to Jeff Beason, R&D/Leverage project engineer, his team tweaked the customer's initial product sketches and delivered a manufacturable design with the snap-together feature, which involved precise undercuts. "It was a challenge, and we got it done—and quickly," says Beason. The design was completed and approved in three weeks. 
During packaging, each container is filled with 187 mL of wine and sealed with an aluminum composite lidding material. Four containers are then snapped firmly together for one product unit. The top container also gets capped with a plastic lid for durability during shipping; the cap can also be used by consumers to reseal unused wine portions once the foil lids are removed. The four-pack is then unitized with a perforated PET shrink-sleeve label.
While all the technology is proprietary to Stacked Wines, packaging is done (according to copy on the product label) by Mojodo Bottling in The Dalles, OR.
Convenient for consumer and retailer
Lightweight and non-breakable, STACKED wines provides a number of advantages to consumers. Among them is the option to enjoy wine in venues where glass bottles are not always convenient, such as poolside, picnics, tailgate parties, and camping, for example. The product is also ready-to-consume, with no corkscrew or additional glassware required. And, with both the container and label made from PET, the packaging materials "are recyclable in any standard residential recycling program," Wynn says. 
The unique, stackable design also provides advantages for distributors and retailers, as well. Combining four 187-mL containers, the shrink-sleeve unit contains the same amount of wine—750 mL—as a traditional bottle of wine. With its upright format, it also has the same dimensions as a traditional wine bottle, so it can be shipped and displayed on shelf in the same way as a glass bottle. "It fits seamlessly into the existing distribution system," confirms Wynn. "It doesn't need a special retail rack; it's not some funky shape that requires special shelf space."
Unlike glass, however, the PET construction of STACKED provides for a lighter package weight during shipping, "so there is a significantly reduced carbon footprint," Wynn adds.
Simple elegance
In November 2011, Stacked Wines did a test launch of the product in California to get the product onto the market and gather feedback. Package graphics, at the time, were done in-house. Taking the results from the test launch, Stacked Wines then hired a San Francisco-based industrial designer to create graphics for the packaging. "We told the designer we wanted the packaging to be young, fun, and modern," says Wynn. "We wanted to convey that it is a high-quality wine and that drinking this product is a social experience."
The resulting package graphics include a custom STACKED logo that literally stacks the letters of the brand name in a vertical line next to a line of parentheses-like symbols that represent the single-serve containers. A pressure-sensitive label on each container includes the logo, along with the required TTB (Alcohol and Tobacco Tax and Trade Bureau) wine label information. The outer shrink-sleeve label uses a background color of deep gold, cream, or purple, depending on the wine variety, along with white or gold type with the varietal name and the STACKED logo. A clear window in the label—positioned under the tagline "Wine in a glass of its own™"—is in the shape of the wine "glass" and offers a glimpse of the product inside. Near the top of the package, the label is decorated with a stylized illustration of leaves and grapes in a subtle, grey or brown color.
The back of the label provides a diagram of the four-container pack with use instructions: 1) Unzip wrapper; 2) Snap apart; 3) Peel lid; and 4) Drink & enjoy! The shrink-sleeve label's perforation is decorated with an illustration of a zipper.  
Says Wynn, "I think the designer did an awesome job of really translating all of our market research into a design."
Overwhelming response
STACKED wines officially launched last March in 10 independent retail stores in California. By the end of that month, that number had grown to 100, Wynn relates. By the end of April, 200 retail stores were carrying the product, and by the end of May, it was in 300 stores. "So the expansion has gone very quickly," she adds. "The product really sells itself. It is just so different and so unique, that when you see it on the store shelf, it really pops out at you. Consumers are very intrigued."
Wynn says Stacked Wines hopes to eventually distribute the product nationwide, moving slowly from California into the Las Vegas and Phoenix areas in the near future. The challenge she believes will be to convince consumers of the quality of the product. "There are many fabulous wines in alternative packages, but there is a perception by consumers that it's all very entry-level," she says. "That's something that all the premium wine makers that are putting their wines into alternative packages will have to overcome together."
Companies in this article