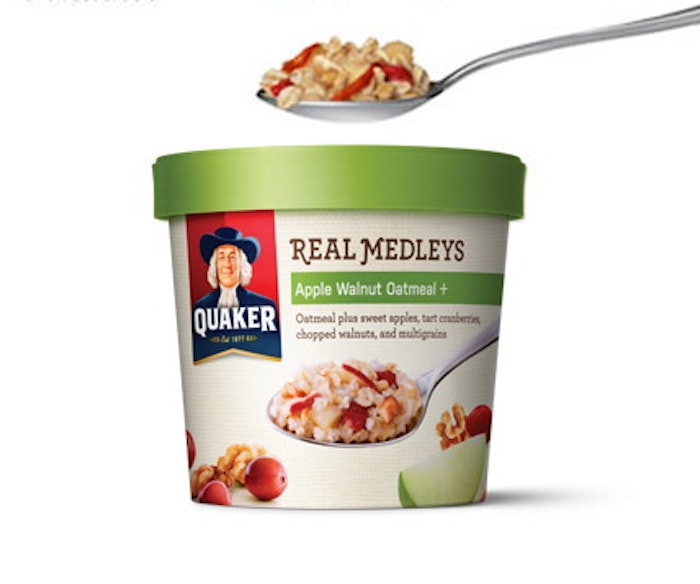 Using warm graphics that bring country chic to mind, The Quaker Oats Co.'s new line of Real Medleys single-serve oatmeal comes in a new microwavable cup-and-lid combination that provides a premium platform for the fruit-and-nut blends. Real Medleys, in four varieties, combines hearty rolled oats, multigrains, and chunks of real fruit and/or nuts that can be prepared in seconds by adding boiling water or by microwaving with water.
"Quaker Real Medleys takes a cue from the popularity of quick-serve oatmeal and provides consumers with portable, premium oatmeal they can keep in their cupboards and take on-the-go," says Connie Hetzler, brand activation director for Chicago-based Quaker Foods & Snacks, a unit of PepsiCo, Inc.
The 2.64-oz cup was designed in-house, under the direction of James Maki, senior principal packaging engineer, R&D PepsiCo, to be contemporary, portable, and convenient, he explains. The package consists of a thermoformed, polypropylene-based cup, covered with a printed paperboard sleeve that provides insulation when the product is warm and adds stiffness to the cup. The cup is sealed with a peelable barrier film that ensures freshness, and is covered by a composite lid constructed of a paperboard center disc and an injection-molded plastic frame. After the product has been consumed, the paperboard sleeve can be easily removed from the cup so that both materials can be recycled.
Packaging graphics, including fruit and nut photography, were created by Hornall Anderson to emphasize the wholesome ingredients contained in the medley blends, with vibrant color-coding selected for the frame of the lid to help differentiate flavor varieties. An off-white burlap-textured background adds a homespun touch to the design. Says Hornall Anderson designer Ashley Flanagan, "The key elements of the design are the simple aesthetic and warm texture, helping to communicate the wholesome and hearty ingredients. By making them the hero, we feature strong flavor cues and bold color navigation that pops on shelf."
The front of the paperboard label is letterpress-printed in six colors plus varnish on a web press. At the same time, the back of the label is printed with a "fill line" that shows through the inside of the cup to indicate the recommended volume of water required for product preparation.
Real Medleys was introduced in grocery stores nationwide in March 2012 for a suggested retail price of $1.79 per cup. According to Hetzler, with consumers praising the product's premium taste and ease of preparation, Real Medleys is "beginning to gain a significant share of the hot cereal category."
Companies in this article