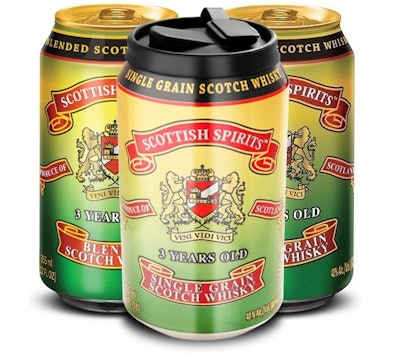 Raynald V. Grattagliano, president of Scottish Spirits Group, Inc., Ft. Lauderdale, FL, was playing with some modeling clay when he struck upon an idea for a value-added packaging feature for his company's Single Grain Scotch Whiskey in a can: a removable, resealable latex cap.
Scottish Spirits' whiskey in a can—a first for the spirits industry—was launched in March 2012 in a 12-oz aluminum container from Rexam. The product, distilled and aged for three years in Scotland, is intended for sharing and holds eight shots of whiskey. With introduction of the latex lid in May, which fits over the can's easy-open end, consumers can now savor the product, portioning it out over time, while preserving its freshness. "It's now a resealable container," says Grattagliano. "You can drink some now, seal it, and drink the rest later. The cap also acts to prevent spilling of the product."
The black latex lid features a one-piece construction, explains Grattagliano, and is patented in Europe and patent-pending in more than 180 other countries, including the U.S. It is designed for reuse, "like a beer 'koozie,'" he adds, which means the suggested retail price of the 12-oz whiskey product has been increased by 5% to $6 per can. 
Grattagliano says that response to the product has been overwhelming: "We are receiving requests from all over the world regarding product distribution. The innovation has sparked enormous consumer requests, which will drive our multinational sales." 
Companies in this article