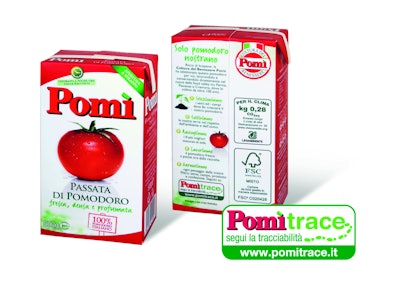 To keep track of the quality and source of the tomatoes used to make the popular Italian tomato products, in autumn 2011 a new traceability system was launched. Using the web-based 'Pomìtrace' tool, buyers of the popular Pomì products are able to trace the source of the tomatoes from the field where they grew all the way to the shopping basket. An identification number printed on each carton pack makes this possible. The buyer can enter this number on a special website (www.pomitrace.it). All the data relating to the manufacturing process are stored in this system and can be accessed online – from the purchase of the tomato seeds to the harvesting of the tomatoes and the filling of the products, right up to distribution.
To make its tomato products, Consorzio Casalasco del Pomodoro uses mainly local tomatoes grown in the area known as 'food valley', encompassing the Parma, Piacenza, Mantova, and Cremona regions. The tomatoes are processed on-site immediately after being harvested. The distance from field to production plant is a medium of 40 kilometers. Constantino Vaia, General Manager of Consorzio Casalasco del Pomodoro: "Behind the Pomì name, there are countless people and stories – whole generations of business owners who each day set to work afresh to produce and process tomatoes of the highest quality. The product packaging is intended to tell the story of Pomí, and to leave the consumer in no doubt as to what the Pomí brand stands for". Pomì is also the first Italian food brand to bear the "FOR CLIMATE"-label of Legambiente (the most important Italian environmental association) declaring the carbon footprint of its products during their entire life cycle.
In its concept for offering consumers the greatest possible transparency in respect of the source of its products, Consorzio Casalasco del Pomodoro has also included the packaging. For its Pomì products, the company has chosen carton packs that carry the label of the Forest Stewardship Council® (FSC®). This label verifies that to manufacture the unprocessed cartonboard from which the carton packs are made, only wood fibers were used that can be proven to originate from forests that are managed responsibly and to the highest standards and certified according to FSC guidelines or from other controlled forests.
The Pomi product shown here is filled on a SIG Combibloc system, which aseptically fills particulates and products with high viscosity.
Companies in this article