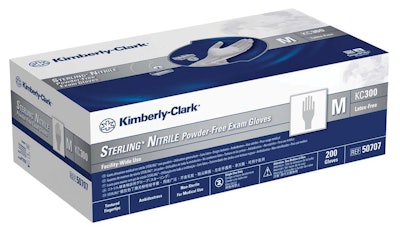 Kimberly-Clark is known for popular consumer brands such as Kleenex, Scott, Huggies, Pull-Ups, Kotex, and Depend. Yet through its four business segments, the company also makes products for industrial and medical-related segments. In all, Kimberly-Clark markets its brands in more than 175 countries.

This summer, Kimberly-Clark Health Care and Kimberly-Clark Professional, two of those four segments, are launching "SmartPULL*" packaging technology for its STERLING* and LAVENDER* Medical Exam gloves that greatly reduce glove waste from previous packaging and fit into the company's wide-ranging sustainability efforts.

Developed internally, SmartPULL packaging technology incorporates a dual glove opening tab for paperboard cartons used in medical, dental, laboratory, and university research environments.

Until now, glove waste occurred among customers. Carolina Krevolin, senior category manager, Scientific Gloves at Kimberly-Clark Professional, explains: "Some customers in medical environments put the glove boxes in a dispenser that is hung up vertically or horizontally on a wall. At times, when they opened that box and pulled out a glove, several other gloves would fall out. Those gloves could not be used, which caused unnecessary waste. With our SmartPULL technology, we reduced waste by up to 30 percent."

Packaging engineers "designed an opening so that you would have two tabs for opening," she notes. "The first tab creates an opening that's smaller than usually found on a typical box of gloves, so that as you pull a glove out of the carton you pull out only one glove, not two or three gloves behind it. The second tab creates a wider opening. By the time you have used about half the gloves, you completely pull off the carton opening to gain better access to the remaining gloves in the box."

Offshore manufacturing and packaging
The medical exam gloves employing the SmartPULL technology are manufactured, then manually packaged, in Malaysia and Thailand. Paperboard cartons, which use up to 45% recycled content, are sourced outside the U.S., using packaging specifications provided by Kimberly-Clark.

Meanwhile, the manufacturing process for the Kimberly-Clark Professional cleanroom gloves (which do not employ the SmartPULL technology) is much more labor-intensive, with workers needed for washing the inside and outside of the gloves in large tumbling machines. Some gloves go through up to eight individual washes to meet regulations. Krevolin says, "In the cleanroom environment, we are protecting the product and process from the person, whereas in the medical exam environment, we are protecting the user from bacteria, blood, and body fluids."

Recently the company automated its upstream manufacturing line operations, which have reduced cleanroom glove-manufacturing time by more than 60%. Following washing and drying, gloves within individual formers are retrieved by workers who put them into polyethylene (PE) bags.

Typically, 100 cleanroom gloves go into a PE bag that is sealed and placed into another PE bag. Ten of these double bags are put into a case liner bag, which Krevolin describes as a very large bag encasing the 10 double bags. Gloves meant for the aseptic environment (sterile) are sorted into right- and left-hand gloves, packaged into pair packs and then put into double bags with a case liner. When the packaging is complete, these gloves are sent to a sterilizing facility for gamma irradiation.

Pallet loads of packaged gloves are air-shipped to facilities in the U.S., Europe, or other parts of the world, each with different regulatory requirements. In the U.S., the medical exam gloves are used by hospitals, clinics, research facilities, and universities. They frequently appear in patient exam rooms and research laboratories and are used directly out of the box. These gloves are not used in surgery.

Meanwhile, cleanroom gloves used by a pharmaceutical, medical device, research, electronic, or semiconductor cleanroom facility must be handled differently. The gloves are first removed from the outer cases to prevent the possibility of spores, mold, and mildew from entering cleanroom areas. "As the workers move to progressively cleaner areas of the facility, they remove the case liner as well as the individual bags. By the time the gloves arrive at the cleanroom, all bags have been removed and only the gloves remain. This prevents as much contamination as possible from entering the cleanroom," says Krevolin.

Altogether, Kimberly-Clark uses five different package sizes for its gloves, two for the medical exam gloves, and one each for cleanroom, cleanroom sterile, and industrial.

Fitting into sustainability plans
The act of recycling is another example of Kimberly-Clark's attention to sustainable practices. This spring, the company announced that it is expanding the world's first cleanroom and laboratory garment recycling initiative to include a pilot program for gloves after reaching key collection milestones in the program's first six months. The initiative involves Kimberly-Clark Professional and recycler TerraCycle.

The sustainability effort comes into play for Kimberly-Clark medical exam and cleanroom gloves, including the STERLING gloves.

The STERLING Exam gloves were launched in 2005. "Customers wanted the protection of a nitrile glove with the sensitivity of a latex glove (minus the latex allergies)," says Krevolin. "Our proprietary manufacturing technology enabled us to increase the tensile strength of nitrile to increase its barrier protection quality. The process also allowed for a reduction in glove thickness. As a result, Kimberly-Clark was able to manufacture a latex-free glove with the protection of nitrile and the sensitivity of natural rubber latex. Given the gloves' improved thickness levels, we were also able to pack 50-percent more gloves into every box compared with a standard latex exam glove, thereby helping the customer increase storage space by 33 percent and reduce waste by 39 percent. In short, a customer using an average of 25 cases per month could reduce waste by one ton per year."

The success of the STERLING Medical Exam gloves was later applied to other end-user segments, including cleanrooms, with similar sustainability advantages. Last year, the STERLING glove sustainability gains improved by another 20%. "We automated and updated our manufacturing lines to incorporate online chlorination (that is, we automated our chlorination). This capability enabled us to package the gloves directly from the manufacturing line. As a result, we reduced waste by 47 percent compared with traditional latex gloves," Krevolin says. She adds that for a customer using an average of 25 cases/month, that can reduce waste by 1.2 tons annually.

Krevolin notes, "Kimberly-Clark supports sustainability in everything we do. Our goal is to 'Create Exceptional Workplaces in the Most Sustainable Way Possible.' Our sustainability efforts are considerable and span all aspects of our company—from typical business operations to improving resource use to environmental impact. Our efforts also span the entire product lifecycle, from product design to manufacturing, transport, and final disposal."

Among the recognition Kimberly-Clark has received for its sustainable practices are the following:

• Listed on Environmental Protection Agency's Fortune 500 Green Power list and National Top 50 list of the largest green power users
• EPA Energy Star Partner of the Year Award for two consecutive years (2009 and 2010)
• Environmental Excellence Award from the U.S. EPA SmartWay Transportation Partnership for three consecutive years (2007-2009)
• Ranked No. 1 in the personal products category for five consecutive years (2005-2009) by the Dow Jones Sustainability World Index (DJSI World)
Companies in this article