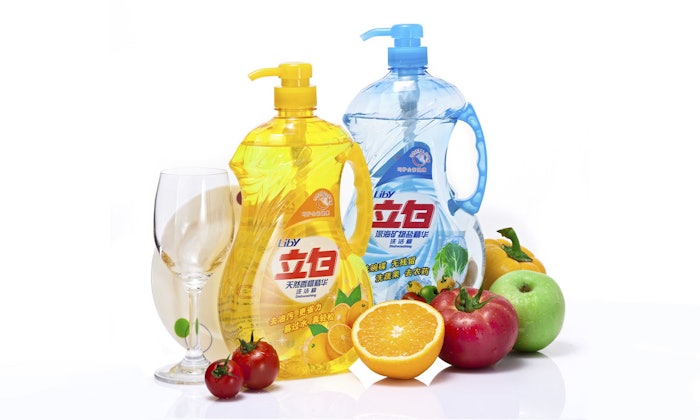 Headquartered in Guangzhou, China, Liby Enterprise Group Co. LTD. is one of the top-three household care product producers in China, manufacturing more than 100 types of products in eight categories. While its dishwashing liquid products hold a 42% value share, until lately, the product's packaging looked no different from other brands on the shelf.
Recently, facing increased labor costs and fierce competition at the retail shelf, Liby took a look at its traditional dishwashing detergent package—a colored, high-density polyethylene bottle with a wraparound film label—and decided it had to create a high-end and higher profit-margin package as a way to hold its competitive advantage.
Driving differentiation
Liby's existing yellow-and-green HDPE package with wraparound film label made of biaxially oriented polypropylene looked very similar to those of its competitors. This left Liby without much differentiation on the shelf, and made it hard for consumers to have a unique feeling about the brand.
The need for shelf differentiation and to improve low-labeling efficiency were two areas Liby hoped to tackle in order to increase its profit margins.
To help set the Liby brand of dishwashing detergents apart from its competition and increase shelf appeal, the company eliminated its HDPE bottle and BOPP film label and switched to a clear, 1.1-kg PET bottle with a Fasson® clear polyethylene pressure-sensitive 85-mil film label from Avery Dennison Corp.
Avery Dennison acted as a packaging consultant on the project, spending 10 months working with Liby's purchasing and packaging team to support the new package development from concept creation to its successful launch.
Says Luo Min, Asia Pacific home and personal care segment manager, Avery Dennison Label and Packaging Materials, "After a review of the packaging and labeling production, our Avery Dennison technical team suggested Liby consider testing a more conformable film instead of the more rigid BOPP film. We also suggested adding one air-charge station. Those solutions reduced the labeling scrap rate from 40 percent to just two percent."
Similar to household care product packaging in the western hemisphere, the former Liby package carried an industrial look with parallel edges and a uniform green color in the package and label. The package was larger in size and offered more space for label design, but the colored HDPE bottle didn't allow the product to be seen by consumers.
The new package for the dishwashing detergent features a clear container and clear label combination that conveys a sense of modern, contemporary freshness. The curves and texture of the PET package are similar to water washing dishes, with rounded edges and swirling angles. Its label design uses eight-color silkscreen and letterpress printing to portray safety and a healthy lifestyle. The clear bottle and label create visual depth and allow the purity of the product to stand out.
Says Liby deputy director of purchasing Tang Huihua, "By switching to pressure-sensitive technology, we had more label material choices—paper or film, white or clear—and increased converting technology options from gravure to letterpress to silkscreen. These technical components turned into advantages for our designers, who had more options on how to portray our brand in the eyes of the consumers."
Successful launch
To date, three dishwashing SKUs have been successfully launched into the marketplace—Natural Orange, Deep Sea Mineral Salt, and Natural Water Lily—with additional options set to launch in July 2012.
"By updating our label and package, we've created stronger shelf appeal, increased production efficiencies, created a higher-end product positioning, and realized fast sales-volume growth of dishwashing products," says Huihua. "With the adaptation of the pressure-sensitive label and auto-labeling solution, we now have a high-end package that appeals to a variety of consumers. The increased efficiency and brand differentiation of pressure-sensitive technology turned into a sales increase of 45 percent in 2011.
"To improve the look of our dishwashing detergent, we needed a packaging partner that could provide a quick response on technical troubles related to converting and labeling, provide professional recommendations to make sure we had the right material and adhesive for our application, and offer a wide product portfolio with localized services. Avery Dennison delivered on all three areas and helped us transform our outdated HDPE bottle into a modern, high-end product."
Companies in this article