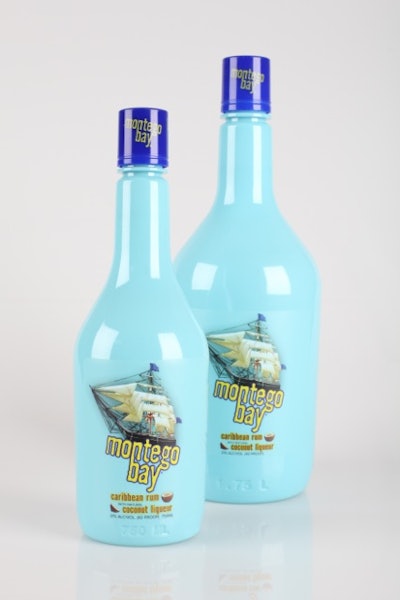 Amcor Rigid Plastics designed and produced a proprietary series of lightweight (PET) bottles for Weston, MO-based McCormick, a distributor of premium spirits. The custom PET containers come in 50-mL, 750mL,1-L, and 1.75-L sizes.
Already a producer of straight rum products, McCormick's entry into the flavored rum segment required not only a great-tasting product but an equally impressive package design to attract consumers in retail stores, bars, restaurants, and other establishments, according to Vic Morrison, McCormick's vice president of marketing.
"Amcor delivered a custom bottle that was phenomenal in terms of color and look," said Morrison. "The unique design and color make this bottle really stand out on the shelf and differentiate us from the competition."
McCormick's design requirements not only focused on aesthetics but also on the functional use of the bottle by bartenders, offering ergonomic and easy-to handle features. The new PET bottle has a squat base and a sleek long neck making it easy to grab and handle. The functional design was based on earlier research from bartenders and mixologists who favored long-neck bottles as a way to enhance handling and help add even greater flair and style when pouring drinks.
The PET bottle boasts a slender, sleek appearance with an eye-catching teal blue color. Most of the weight is at the bottom of the bottle and the neck rises to present a "strong stance," according to Myles Graybill, Amcor project engineer. A smaller 28-mm finish (versus typical 33-mm) and a smooth-wall tall finish complements the long neck design.
Overall, the bottle was designed to be rigid in order to mimic the look, strength, and robust feel of glass. At the same time, the lightweight PET container delivers significant sustainability advantages, resulting in reduced shipping and transportation costs, according to Morrison. The containers are one-sixth the weight of glass bottles and are unbreakable in addition to being recyclable.
The recent national roll-out of Montego Bay Coconut Rum across 43 states has been highly successful with the new package, says Morrison.

Companies in this article