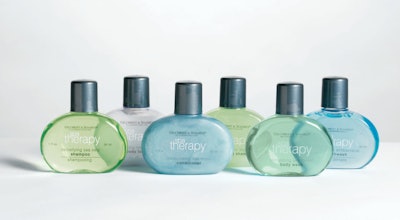 Specializing in servicing the luxury hotel and resort market, Gilchrist & Soames®—based in Indianapolis, IN—provides cosmetic-grade toiletry collections to world-class hotels, resorts, cruise lines, spas, inns, and bed & breakfast establishments.

Offering a vast range of products, including shampoo, conditioner, body lotion, shower gel, dental rinse, bath salts, bar soaps, and necessities, Gilchrist & Soames has thousands of product SKUs to manage, from a design, development, formulation, manufacturing, quality assurance, and distribution standpoint.

The firm not only supplies Gilchrist & Soames-branded guest amenities, it also offers exclusively designed custom collections that support and enhance the brand positioning of individual properties.

"One of the biggest challenges we face as a company is the ability to manage the art files for the thousands of different SKUs," says Christina Mavity, director, quality assurance and technical services for Gilchrist & Soames. "We were looking for a way to keep track of the most current art revisions, without having to maintain a big book of artwork per project. We're held to strict cosmetic regulations, including the accurate listing of ingredients per product. It's vital that in our incoming inspection/quality control process, we are verifying the product to the latest artwork with the correct ingredient listing. In the past, we've encountered situations where we'd receive labels with the wrong ingredient listings and had to pay for a rush order to correct the labels, causing us to spend more time and money."

With a multitude of SKUs come different product weights, measurements, ingredients, material types, and graphics. Looking for an easier way to streamline and simplify the label development and production process, Gilchrist & Soames turned to WS Packaging Group and its WebFlex™ online ordering, proofing, and graphics asset management system. Gilchrist & Soames has partnered with WS Packaging to develop and print the labels for the majority of its personal care product lines. The impact has been profound, notes Mavity.

"In many cases, large companies, like Gilchrist & Soames, don't have an established system in place for graphics asset management," says Chris Doerr, executive director of national sales, WS Packaging. "I've worked with a range of companies whose art files reside with one individual, which can be very risky. With WebFlex, all art files are stored in a single, centralized electronic profile. It's a secure site, password protected, with limited access, which provides a great level of security. The art upload and group proofing features of WebFlex offer Gilchrist & Soames convenience and efficiency. Uploading artwork is intuitive and makes sharing information much easier."

Artwork is uploaded directly to the WebFlex server without having to use a third-party FTP site, where file corruption often occurs. Once loaded, a notice is sent to the appropriate WS Packaging contact(s) in the field. The process happens almost instantaneously. Each version of uploaded artwork is then stored on the server, creating an artwork library that can be easily accessed at any time.

The electronic group-proofing feature reduces the time for review and approval. Someone can be traveling and still have the ability to review and approve a proof with an electronic signature online, 24/7. In many cases, several people from different departments need to review the artwork; for example, an individual from the sales, marketing, graphic design, legal, or regulatory departments. With group proofing everyone can review it at their convenience.

In addition to artwork management and electronic proofs, WebFlex has further streamlined the label development and management process for Gilchrist & Soames with material standardization. When a new label is requested, Gilchrist & Soames has the ability to review the size, shape, material, and bottle types that have been used previously for similar projects. Because the information is centralized, it's much easier to identify a standard or appropriate die size and label configuration. Each label in the WebFlex system is assigned a specific material, so anyone who uses WebFlex can verify which type of material needs to be used for a specific label application.

"WebFlex provides Gilchrist & Soames with an easy-to-refer platform in which they can check and see what they have already used for previous jobs," Doerr says. "This helps reduce the amount of raw materials, sizes and colors. They don't have to add more material or sizes to their existing purchasing base, thereby helping them leverage volume buys and make better business decisions."

SKU proliferation is an increasingly competitive brand strategy for retail. Even for a national consumer packaged goods company, managing a line of 50 SKUs is daunting. But managing thousands as Gilchrist & Soames must do makes keeping tabs on things a monumental challenge. Knowing where things are in the production process is critical to fulfilling the brand promise, so product tracking and inventory control are key.

At any time, but especially vital for critical orders, Gilchrist & Soames can check the status of any project to see where it is in the development process—pre-press, on-press, finishing, or shipping. With each order, Gilchrist & Soames is provided a tracking number and a hyperlink to the freight company to easily track a shipment.

The product tracking feature eliminates having to build in additional work-in-process time, that extra cushion time that used to be built into a project for the unknown. The ability to track orders gives Gilchrist & Soames the opportunity to plan for reality versus building in extra buffers, allowing them to reduce waste and save money.

Gilchrist & Soames can check inventory at any of the WS Packaging facilities it works with—Neenah, WI; Wilton, NH; and Portland, OR. Additionally, they have access to the WS Packaging-exclusive Roll Calculator Tool through WebFlex, which calculates the number of labels on a roll by entering the label size, type of material, and the diameter of the roll.

Many times when doing inventory, companies will count a roll one of three ways—as a full roll, a partial roll, or not at all. However, this is often determined through a guess, which can create challenges. For example, if a company was to use a full roll, when in reality it was just partial, they could potentially face running out of labels and having to place a rush order to complete a job. The Roll Calculator provides a solution to these types of challenges.

WS Packaging provides Gilchrist & Soames with the majority of its printed labels. Label substrates include clear and white pressure-sensitive film labels, along with paper soap seals for the company's bar soaps. Labels are printed using a variety of methods—UV flexo, digital, rotary screen, and hot stamp. On average, labels are printed using three to four colors.

Another feature of the WebFlex package used by Gilchrist & Soames is online pricing. "Prior to the online pricing feature, our new product development group was constantly reaching out to WS Packaging with emails, phone calls, follow-ups, etc., to get a price quote," Mavity says. "But now we can get instant price quotes through WebFlex, eliminating the back-and-forth traffic and improving turnaround time.

"We're currently using WebFlex to manage 98 percent of our label SKUs," she adds. "WebFlex has helped us improve our productivity, purchasing decisions, maintain consistency between product lines and, overall, improve our bottom line. It's been a key factor to our success."