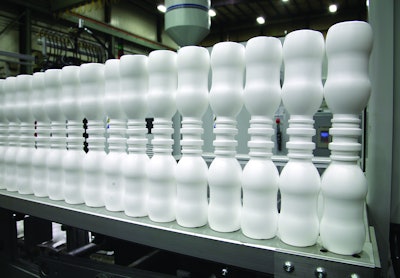 When Russian Dairy Wimm Bill Dann was looking to add capacity, they turned to Uniloy, which had just introduced its Neck-to-Neck (N2N) UR Series reciprocating blow molding machines. This innovative machine produces two containers oriented neck-to-neck per cavity in a single cycle. The result is high output, with reduced energy usage and cycle times, compared to comparable blow molding machines.
The first two Model UR90-16-N2N machine systems were delivered to Wimm Bill Dann in 2009 to produce 100-mL HDPE liquid yogurt containers. Each machine could produce over 20,000 of the 6.5-g containers per hour. Uniloy also spearheaded the container and mold design to help optimize the container from a previous weight of 9 g. This 30% reduction yielded three key benefits: cost per container came down, cycle time to produce containers was reduced, and sustainability goals were met.
"We're very happy with the machines, which our staff find easy to operate and maintain," says L. Danilushkin, chief engineer at Wimm Bill Dann. "We average over 98% efficiency on these machines and find weight variations are less than 5%. In fact, we're so satisfied, we've purchased another two lines."
The new systems, delivered in March 2012, will add capacity in the 100-mL container and also produce a 200-mL size.