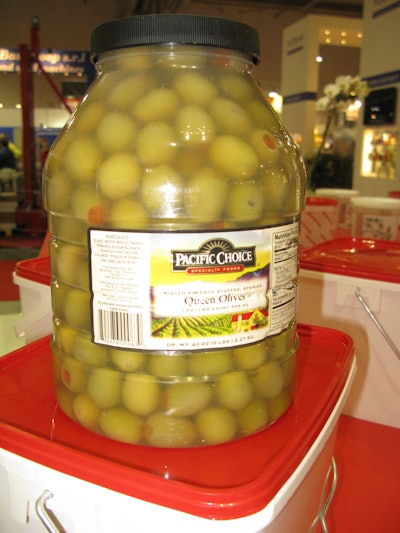 Part of the Thermic line of plastic jars from RPC Corby in the UK, the 3.8-L (1-gal) jar weighs 160 g compared to the 1.7 kg that a glass jar commonly used for olives in the foodservice space typically weighs. The glass jar is also heavy to handle and breakage is practically unavoidable. The plastic jar is also seen as an alternative to pouches that are used for sliced black olives that go to customers such as Domino Pizza or Subway in the US. But some recipients of the pouches are unhappy that the olives are crushed during transport, so the rigid plastic container could have some advantages in this regard.
The jar has a six-layer structure of outer PP/adhesive tie layer/EVOH/adhesive tie layer/regrind/inner virgin PP. It has a 100-mm closure with an induction heat-seal foil liner that will provide the complete barrier needed. The closure is made by either RPC Halstead in the UK or Panocap closures in Germany.
Early indications suggest that this jar is competitive cost-wise, although the closure is more expensive than the metal closure. Another barrier to widespread adoption of this multilayer plastic container is that glass manufacturers have factories within spitting distance from the world's olive producers in Portugal and Spain while this jar is made in the UK. RPC's intention is to build the market and eventually get closer to the olive guys by possibly manufacturing barrier blowmolding in a factory in Madrid sometime in the future.
The jar shown here--photographed at the recent Ipack-Ima exhibition in Milan--is one of the brands sold in the U.S. by Star Fine Foods of Fresno, CA.
Companies in this article