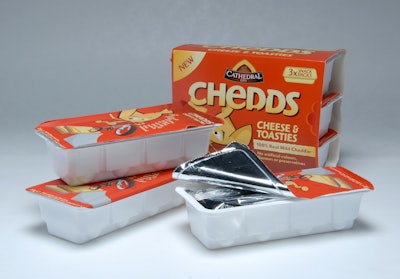 Supplied by RPC Bebo UK, the specially designed PP/EVOH tray holds six slices of real mild cheddar cheese and six mini melba toasts. Heat-sealed lidding supplies the graphic pop. Three of the trays are packed in a paperboard sleeve.
With parents under continued pressure to offer healthy lunchbox selections, Chedds is the only brand to provide cheese snacks made from 100 per cent mild cheddar, says Dairy Crest, the UK's largest dairy. The firm is backing the launch with a £3m advertising campaign.
Cathedral City Chedds is in all the major retailers in the UK and sales have been strong since the new product hit the shelves in August.
Dairy Crest is confident that with the backing of the well-established and trusted Cathedral City brand, Chedds will stand out from other cheesy snacks for children.
The children's cheese snacking category is currently worth in excess of £185m annually and growing at a rate of 1.5 per cent.
Companies in this article