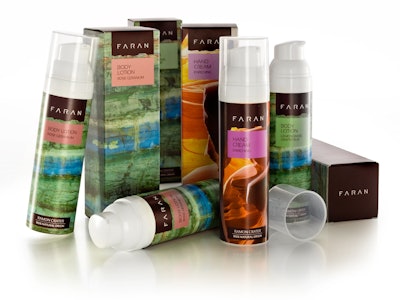 The dispensers are made by Mega Airless. According to Eric Desmaris, business development director at Mega Airless, "The selection of our 75-mL Mezzo top-fill pump underscores our appeal to innovation-oriented customers with natural and eco-friendly products that require optimal formula protection and reinforcement of core brand characteristics through premium-style airless dispensing solutions. Faran appreciated our airless pack's performance, precision and protection. Savvy customers know the importance of packaging in communication of core brand attributes."
Every Mega Airless dispenser is vacuum-tested inline and delivers precision dosing, quick-priming and 360-degree operation – with no drips, clogs, drying, or product contamination.
Israel-based Faran Cosmetics, located in the Negev desert, takes inspiration for its rejuvenating and replenishing formulations from the nearby, dramatic, Ramon Crater. The company prides itself on products designed to promote health, appearance and overall well-being, using nature's finest ingredients. The new EcoCert certified Nature Scent products are paraben-free and not tested on animals. Formulated from a blend of organics, with natural essential oils and firming nutrients to hydrate and stimulate the skin, they appeal to consumers seeking an all-natural ingredient experience.
Companies in this article