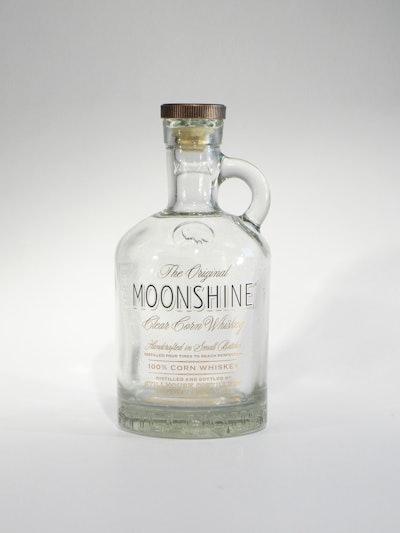 It's sourced by TricorBraun, which facilitated design and manufacture of the prohibition-style whiskey jug for the Stillhouse Distillery of Culpeper, VA. The bottle won an award for its originality at the 2011 National Association of Container Distributors annual competition.

The 750-mL rustic, flint glass container's neck features the customary xxxx along with a looped, glass finger-handle to resemble a prohibition-era moonshine jug that would have made Pretty Boy Floyd smile. While the jug has a roaring twenties appearance, it capitalizes on contemporary packaging strategies to advance the Original Moonshine brand. "Stillhouse Moonshine" is embossed around the bottom diameter of the jug and the brand's howling wolf logo is etched in the bottle's shoulder. The bottom is embossed with the Stillhouse name and logo so fellow drinkers can identify the brand.

The label is clear film with a three-color decoration. The jug's bar-top closure features a 45-mm closure disk that has the appearance of weathered copper and displays the brand's logo. It uses a synthetic cork.
Companies in this article