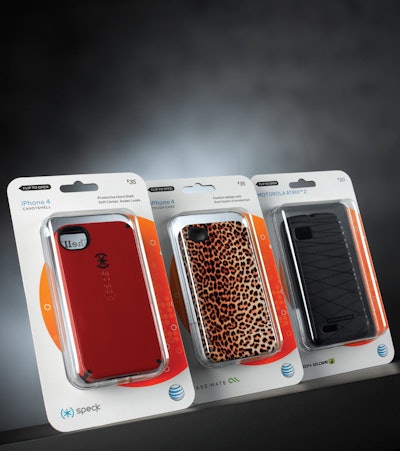 Late in 2011, a new material came into use for the clear clamshells thermoformed by Display Pack® for all of AT&T's branded wireless accessories. Called TerraPET® and supplied by Klöckner Pentaplast, the new material is composed of 30% renewable-resource content. TerraPET, says Klöckner Pentaplast, is sourced from ethanol harvested from natural sugar cane. It makes it possible to replace fossil fuel-based material with an alternative without sacrificing any of the high-performance qualities—including clarity—of APET.

It's not that the AT&T Accessible Pack® wasn't "green" already. The thermoformed part that preceded the TerraPET part was already made from Recycled PET (RPET) with approximately 30 to 60% recycled pre-consumer content. But early in 2011, TESSCO, AT&T's distributor that works directly with its product marketing and supply chain teams, put out the call for packaging material that is even greener.

"AT&T wanted increased content of recyclable or plant-based material," says Kate Varner, category manager for packaging at TESSCO. Adds Michael Cowan, AT&T's accessories business director, "For the past three or four years, we have done different things to become more sustainable and minimize the company's environmental impact. We are always asking, 'What can we do next?'"

The most recent answer to that question is TerraPET. The transition to TerraPET film began on October 2, 2011. The film is sourced from ethanol harvested from natural sugarcane. A single planting will yield two to four harvests, making it a rapidly renewable agricultural crop. That's one of the things that make it such an attractive alternative to fossil-based material.

It permits the replacement of a third of the fossil fuels traditionally used in AT&T's accessory packaging. AT&T is the first U.S. telecom company to use this plastic in its packaging. According to Klöckner's Peter Gianniny, business manager for thermoforming films, TerraPet is a good example of offerings brought to market by Klöckner to help customers meet their sustainable packaging goals.

"Before advancing TerraPET film, we did a great deal of research. We reviewed the full spectrum of options," says TESSCO's Varner. "We saw a lot of clamshell samples made from alternative materials. We narrowed it down to the three or four best for presentation to AT&T. Whereas the other samples displayed such negatives as being cloudy or brittle—tending to crack, break, scratch, or discolor—TerraPET film had no such cons." Among the "pros" sought, Varner lists these: performance, dependability, and clarity.

The sample clamshells were developed by Display Pack, the thermoformer and patent holder of the Accessible Pack. Says Marty Tidball, senior national accounts manager for the company, "With TerraPET film, we are able to use the same tooling and heat-seal machinery. We didn't need new equipment of any kind." Concurs AT&T's Cowan, "Compared to TerraPET film, the other clamshell samples weren't the same thing. They didn't look as good. But TerraPET film appeared exactly like the RPET we'd been using."

Display Pack redesigned the slimmer packaging, which became the Accessible Pack, once it learned of AT&T's needs in 2009. Display Pack is unique in that it offers a Single Source Solutions® system, which includes package design, pre-press, printing, thermoforming, and contract packaging. "Our main packaging objectives," says AT&T's Cowan, "are to sell the product, keep costs reasonable, and use sustainable materials." The latter is the reason why AT&T, in the 2010 redesign, switched from 35% recycled paperboard to 100%, as well as using soy- and/or vegetable-based ink. Display Pack's redesign was chosen from the field, according TESSCO's Varner, because they came up with the cleanest, easiest approach to assembly and conversion.

Slimmer pack plus energy savings
"The slimmer packaging fits in with our overall sustainability strategy," explains AT&T's Cowan. "For instance, we have a goal to replace our fleet with alternative-fuel service vehicles that run on compressed natural gas. That is considerable when you think that we have the largest fleet in the country. The plastic used in our wireless accessories packaging is another business-minded example. It's smarter in that it's financially viable and more environmentally sound. We want the best plastics out there with less environmental impact. During the selection process, Klöckner Pentaplast got us the information we needed on TerraPET film in a timely manner. We conduct strict due diligence. We don't just pick, and from our perspective, Klöckner Pentaplast was wonderful to work with."

The Accessible Pack also realizes emissions savings in another way. Its slimness means more packages per shipment, thus reducing tertiary materials and transportation mileage, as well as lowering the costs for warehousing and distribution. Also, more product can fit on a single retail-display peg. Yet the packaging was designed so that the footprint remains virtually consistent across the product line, giving the plan-o-gram a level face for branding of the AT&T graphics identity and essential information. The clamshells are thermoformed to different sizes to accommodate product dimensions for such diverse accessories as power chargers, device cases, and memory cards. AT&T is now using the Accessible Pack for over 300 SKUs of its wireless accessories products.

Another energy savings that comes with the Accessible Pack stems from its use of Ecohesive® cards, which fold over and seal, trapping the accessible clamshell. The pressure-sensitive Ecohesive card does not require heat and may even be pressed and sealed manually. Even so, TESSCO runs it on standard heat-sealing machinery—with the heat turned off—to achieve faster run cycles. So both manufacturing hours and costs are cut, in addition to lowering greenhouse gases.

Yet the primary reason for using Accessible Pack is that the customer can have "access" to the product. AT&T wanted a package that consumers could open while in the store and then close back up and rehang on the retail display. That way, they can test the product inside to see if it's right for their device.

Most of all, it was important that the consumer have a 360-degree view of the product inside. Display Pack accomplished all of this with a dynamic built-in tab and dual-hinge design that allows the fully trapped clamshell to be opened and closed without damage to the package. It snaps back together by means of a cleat in one corner and a concave groove on the opposing corner. The creative marriage between the die-cut opening and clamshell eliminates a need for two separate pieces of paperboard. As the clamshell weaves through the paperboard die-cut and folds on its scored hinge, it allows the second half of the clamshell to open while the rest of the cavity is trapped between the sealed Ecohesive fold-over card. The hang hole is reinforced by the clamshell flange, eliminating consumer wear and making the package reusable. The clamshell, as of October 2, 2011, is made from 15-mil TerraPET film, and the paperboard is recycled 20pt WCN (white coated newsback).

"The new TerraPET film is the icing on our 2010 redesign cake," says Cowan. "It has allowed us to replace a fossil-fuel based material by nearly a third with up to 30% plant-based material. We like being the first to use it, but it would be better if more companies caught on. Because we all win in sustaining the environment."
Companies in this article
Videos from Klöckner Pentaplast Pharma, Health & Protection and Durables