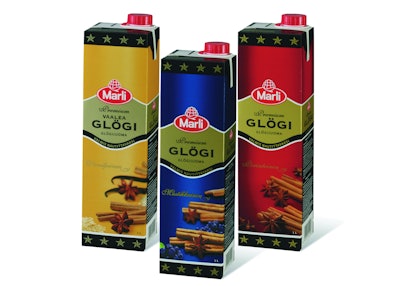 When it comes to recipes for winter beverages, European brand owners are becoming ever more creative. According to carton-pack supplier SIG Combibloc, alcohol-free variants that can be drunk hot or cold are getting a big push right now. These special winter treats, which include beverages such as punches, mulled wines, and "Feuerzangenbowle"—a hot German New Year's or winter punch made with red wine and rum—now come mixed, ready to drink, and conveniently packaged in aseptic carton packs that offer an extended shelf life without refrigeration.
One example is Wolfra Kelterei of Germany, which offers its customers top-quality products that are full of natural ingredients. In addition to its regular product range, the company has launched a specialty range for the chilly season. With a mix of herbs and spices, the recipes for the winter specialty drinks, juices, and punches guarantee a very special taste sensation, says SIG. The Wolfra winter specialties are all alcohol-free, and are available in a 1-L combifitPremium aseptic carton pack with a combiSwift screw cap from SIG. Flavor varieties include Glühfein (based on the classic German Glühwein, with a hint of tangerine), Bavarian Winter Apple, Bavarian Winter Plum, Fruit Punch, Feuerzangenbowle, and a special punch created for children.
Another example, "Winterzauber" (Winter Magic), is a juice created by Swiss company Bischofszell Nahrungsmittel AG (Bina) and distributed in Migros supermarkets in the winter months. The company's winter drink is made from 100% orange, pineapple, and tangerine juices with star fruit and calamansi juice, plus a touch of cinnamon.
"This combination is unique and it is therefore very well received," says Arnold Graf, key account and product group manager at Bina. "To get hold of the fruit they want, fresh and in good quality, can be difficult for consumers. A premium juice with a delicious, perfectly balanced taste, packaged in a way that protects the product, is a healthy alternative to fresh fruit." Winterzauber is a good example of how seasonal juices can become optimally established in a company's annual product line-up.
In Finland, Eckes-Granini's Marli brand has been very successful with its premium Glögi punch drinks, in Traditional, Vanilla, and Blueberry varieties. Glögi is a traditional winter punch originally from Sweden, that is also very popular in other far North countries. The precise "secret recipes," using red wine, a range of juices, spices, almonds, and sometimes raisins, are generally passed down from generation to generation in Scandinavian families. For those who like convenience and cannot spare the time to make their own homemade Glögi, Marli has premixed an alcohol-free variant of this winter classic.
Says Irma Mäki, senior brand manager at Eckes-Granini Finland, "Our Glögi Traditional is based on the juice of grapes, currants, lingonberries, and blueberries, livened up with a host of spices like cinnamon, clove, cardamom, and ginger. The Glögi Vanilla punch has apple juice as its main ingredient, rounded off with vanilla, cinnamon, and ginger, among others. Glögi Blueberry is a blend of grape and blueberry juices mixed with traditional Glögi spices carefully chosen for their flavor. In the carton packs, our winter specialties are packaged light-tight and airtight, and they can be kept for a long time without preservatives or refrigeration. The flavors, aromas, nutrients, and vitamins in foods are retained. And that comes across in the taste."
Companies in this article