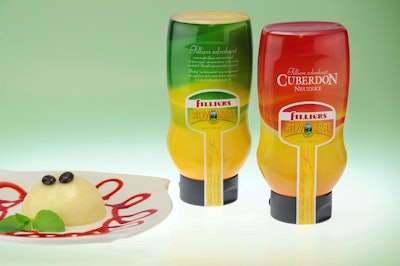 The handy and attractive 500 ml top down bottle, supplied by RPC, has joined the existing glass bottle to generate appeal among additional consumer groups, such as younger consumers.
A special oxygen barrier inside the multilayer polypropylene bottle protects the filled product and offers a minimum shelf life of three years. The squeezable bottle ensures convenient handling and easy dosing of the product. An attractive sleeve label further enhances the pack's eye-catching on-shelf image.
Marketed under the brand name Filliers, the product is a pure advokaat (egg liqueur) and a fruit-candy advokaat. Used as a topping, it turns every dessert into a uniquely tasteful experience. It was launched in the Benelux countries in the summer of 2011.
The Euro Squeeze bottles are part of RPC's extensive standard ranges and are available in eight marketable sizes from 250 to 1000 ml.

Companies in this article