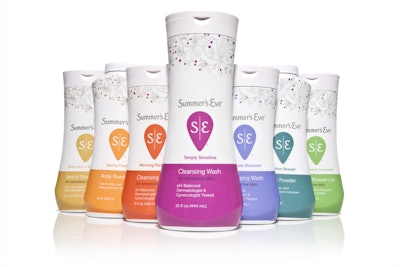 First introduced in the 1970s, the Summer's Eve brand of external feminine cleansing and freshening products from C.B. Fleet Co., Inc., Lynchburg, VA, is a category leader. But in mid-2009, the company realized that although it had a strong and loyal following, the brand's outdated packaging hampered a long-term growth strategy.
"One of the major things we heard was that we had lost touch with the new consumer," relates Angela Bryant, C.B. Fleet's director of U.S. marketing for Feminine Care. "Over the years, we have really focused on our current users, who we absolutely love and who have gotten us to where we are today, but we wanted to start reaching out to a new generation, a younger generation, of women."
The project of transforming the Summer's Eve packaging line from a mostly 80's-inspired design to a contemporary, feminine feel; from a medicinal, problem-solution product to one that is part of the daily routine; and from an embarrassing item in the grocery cart to one that can be confidently displayed in the shower or on a bathroom counter, took about a year and a half, and involved the expertise of two valued design partners. Product Ventures handled the structural design of the new packaging, while Little Big Brands was responsible for the graphics.
"One of the questions I get asked a lot is, 'Wasn't it chaotic having all these people involved in the project?'" says Bryant. "I have to say it really wasn't because we respected one another and what each brought to the table. It's all about how you set up the expectations upfront."
Consumer insight drives design
The Summer's Eve product line consists of 33 SKUs, comprising five package structures, six product types, and 17 fragrances. Products include a cleansing wash, a deodorant spray, a body powder, cleansing cloths, a bath and shower gel, and a douche.

Bryant says C.B. Fleet's expectations for the new packaging were shaped and clarified by consumer research done by the company itself, as well as by Product Ventures and Little Big Brands, including ethnographic studies, focus groups, and qualitative studies. One requirement that remained in place throughout, however, was to retain the original footprint of the packaging within 20%, so that new retail catalog numbers and UPCs would not be necessary. Beyond that, Bryant shares, C.B. Fleet hoped to "lift the barriers," by bringing women what they really wanted.
At Product Ventures, consumer research took many forms. Says company CEO and founder Peter Clarke, "We have a consumer-driven approach to how we work, and we have a whole complement of ways we effectively connect to consumers to inform our packaging design. We look at macro-trends in particular to make sure the design stands the test of time."
Adds Gail Rittaco, Product Ventures' vice president of Strategy and Insights, "Regardless of category, it's known that consumers give you three to five seconds at shelf. So you really want every part of your package to connect with them emotionally—the structure and the graphics. So much of our consumer interaction was to understand that emotional connection that structure can drive."
Among the studies, Product Ventures prepared a trend report for C.B. Fleet, conducted two-way consumer blogs to learn about women's daily interactions with feminine hygiene products, and hosted interactive "consumer workshops" at its site in Fairfield, CT. At the workshops, Product Ventures set up bathrooms with showers, sinks, medicine cabinets, etc., allowing consumers to interact with various package shapes and structures as they would in the real world. Rapid prototyping equipment allowed Product Ventures to make structural changes on-the-fly.
"The real magic of this is that we are able to bring consumers into the heart of our creative studio, where we have the tools, the talent, and the equipment to realize options for the consumers in real time," says Clarke.
Among the learnings gathered from the research that served as "guideposts for the design" were five main trends, explains Rittaco:

• Control. "Consumers in this category want to control their time, their environment, and their wellbeing."

• Empowerment. "We saw empowerment as a packaging opportunity for Summer's Eve in that it enabled woman by letting them embrace womanhood and sexuality in a knowledgeable, passionate, and fun way."

• Expression. "Expressive packaging helps to stylize the experience for woman, offering candor, performance, and fun to a typically taboo topic."

• Wellness. "Packaging that instills wellness is very important in this category."

• Sensation. "Multisensory cues help to enhance the overall experience for a woman, making her more fulfilled in a holistic way."
Concurrently, Little Big conducted its own research. Explains the firm's creative director, John Nunziato, "Multiple focus groups in different geographies were conducted to understand consumer preference for design direction and any elements that still needed honing, and we continued with quantitative testing to confirm preference and help round out the restage story for retailers."
What women told Little Big, says Nunziato, is that while they loved Summer's Eve products, the brand wasn't relevant to them anymore. They also felt the category was problem-solution oriented, while they viewed Summer's Eve as part of a normal, healthy routine. "The old packaging added to the embarrassment factor surrounding the category," he adds, "appearing dated and matronly, and making women feel it was something they needed to hide."
Functionally, women also added that they shop the category by color, but a mix of pastel shades on the old packaging made that difficult. As Bryant jokingly remarks of the old packaging's fragrance colors, "We were living in the 80s. We were kind of like the Don Johnson of feminine hygiene."
Rebranding is bold yet feminine
In March and April 2011, the new Summer's Eve packaging line launched on store shelves, bearing smoothly integrated, feminine-waisted forms and decorated with bold, easily identifiable color coding and contemporary graphics against a clean, white background. Matte surface finishes provide a soft, clean feel, "connecting with a sensation-inspired trend," says Rittaco.
Product Ventures provided structural design for two custom high-density polyethylene bottles—for body powder, cleansing wash, and bath and shower gel products—and for a paperboard box for sachets of cleansing cloths. An aerosol bottle for deodorant spray and a flow-wrap bag for wipes round out the new line.
Of the almost hourglass-shaped bottles, Clarke says, "each one of them ties cohesively together." He adds, "They are sleek, modern, feminine, and confident. They also have this really nice kind of dancing line at the bottom of the structure that almost feels like a flowing dress."
In terms of enhanced functionality, bottle caps were designed to be more durable and robust. Polypropylene caps from the old design were constructed of only a partial flip top in the center of the closure that appeared flimsy in form and had the potential to gather dirt in the parting line. The new PP cap is a full flip-top closure, with a clean, white finish, that smoothly integrates into body of the packaging. "By having it fully integrated," says Clarke, "it becomes much more counter-worthy and much more attractive and sleek."
The carton for the cleansing cloth sachets—which was "very carefully and proportionately designed," according to Clarke—uses a die-cut, hinged lid with a unique locking tab that provides assurance to the consumer that the carton is securely closed.
As for Little Big's contribution to the new packaging, Nunziato says that part of its original goal was to develop a differentiated, relevant, and ownable brand vision for Summer's Eve. This is accomplished through several graphic elements. One is an elegant and subtle new logotype, an upright script that "no longer screams 'Summer's Eve!' and forces women to bury it in the bottom of the store cart or at the back of the shower," says Nunziato.
Another is a simple symbol that holds the brand initials, "SE," placed prominently on the front of the pack. The symbol, which has the shape of an upside-down teardrop is a Yoni—the ancient symbol of the female genitalia. "It speaks to what women told us they wanted," says Nunziato, "to have the brand speak more openly, honestly, and realistically to them. Yet it does so in a respectful, understated manner."
Adds Bryant, "We don't really promote it to consumers, but it really is a beautiful way to put something on our package that links back to the brand."
Color blocking at the bottom of the package identifies fragrance and locks up product type and claims. A modern color palette was chosen by Little Big that Bryant says is vibrant enough to jump off the shelf, but not so bold that it connotes heavy fragrances. Stylized flower illustrations at the top of each package lend a contemporary, feminine feel.
Graphics for the bottle are offset-printed in four colors on full-body shrink-sleeve labels, while graphics for the other package formats are directly printed onto the packaging. C.B. Fleet declined to provide details on package suppliers.
New packaging a 'win-win'
In July 2011, C.B. Fleet began a bold advertising campaign to support its product rebranding with the theme, "Hail to the V." While the campaign has become somewhat controversial, what is not under debate is the appeal of the brand's new packaging design. "If you look at our packaging over the years since the brand was introduced, it has taken nice baby steps," says Bryant. "What we wanted to do with this was a revolution.
"This has been a big change, but it's been really, really well received by consumers. Women just love the new look, saying, "Finally you've done something where I am not embarrassed to put this product in my shopping cart.'"
While Bryant says retailer feedback has been fairly anecdotal to this point, she adds that retailers have been very supportive. "In our category, you don't see a whole lot happening; it's kind of been under the radar," she says. "So retailers were really excited to see that we were making a bold move to bring some excitement around the category. So it's a win-win situation. It's a win for us because if we bring younger consumers to the brand, the long-term viability of the brand is there. And it's a win for the retailers because they don't have to invest anything, but we are driving customers to the shelves and increasing sales."
Companies in this article