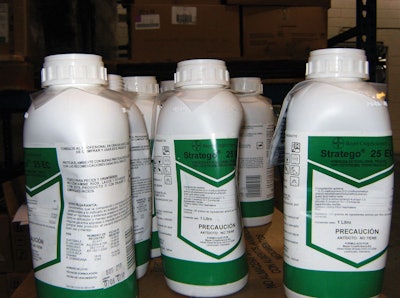 Bayer S.A. (Guatemala) produces agricultural chemicals and packages them in plastic bottles for distribution to farming and gardening supply outlets and other retail stores. The company had been experiencing some container collapse problems. Bayer had been using thick-walled HDPE containers and nitrogen purge to avoid collapsing, but with less than satisfactory results for some product formulations due to the altitudes above sea level. To enhance product safety and preserve their brand image, Bayer began to evaluate packaging improvement options.

A key corrective packaging option was the addition of vented induction cap seal liners which allow gas transfer without permitting liquid leakage. Bayer S.A. first implemented this measure in 2004 for selected products with great success in Guatemala. Consequently, the vented closures are now universal to the company's entire line of bottled agrochemicals filled in Amatitlan, Guatemala.


Extensive evaluations
Prior to choosing the induction liner system best suited to its universal needs, Bayer performed several comparison tests over the course of about 26 weeks.

The company concluded that the optimum choice for prevention of container collapsing was the GORE® vented pulp induction liner from W. L Gore.

Gore technicians huddled with Bayer to discuss off-gassing problems and container pressure equalization problems related to the Central American geographic locations, with their varying altitude and temperature conditions, where the products are marketed. The trials evaluated the behavior of Bayer's various agrochemical formulations in combination with the Gore vented pulp induction liner and a reduced-weight one-liter container.

The Gore circular liners have an attached membrane made of ePTFE (expanded polytetrafluoroethylene) and can be customized for different porosity levels. They can be integrated with a broad range of caps and closures. These liners are designed to provide a liquid-tight barrier with high levels of venting air flow for pressure equalization for increased safety and sustainability of products. Without the free exchange of air provided by the liner, a vacuum is created that can cause container collapse.

The liners are well-suited for a range of typically hard-to-package products such as powerful cleaning chemicals, disinfectant formulations, and other caustic household and agricultural/gardening chemicals. The addition of the vented liners allows the containers to attain a pressure balance by letting them breathe through the ePTFE membrane in combination with another mechanism, such as a perforation in the cap top and/or cap thread. W.L. Gore notes that its technicians strive to custom-engineer airflow-control solutions to meet a full range of specific product and package requirements.


Positive results
According to Bayer, the Gore vented liner solution defeated Bayer's container failure problem on a cost-neutral basis. Bayer's original strategy of using heavier, thicker-walled containers meant that the containers were more expensive to produce and ship. And the nitrogen gas purge required the ability to have precise control of the nitrogen purge application.

By using the GORE liners with uniquely designed vents, Bayer has been able to reduce container weight by more than 25%, and the company has improved its overall sustainability performance. For example, the one-liter HDPE containers, currently supplied by Matriceria Industrial Roxy S.A., San Salvador, El Salvador, weigh approximately 80 g versus the previous container weight of about 100 g.

Roxy also supplies the caps with the vented liners pre-installed. The vented liner allows gas egress through the closure threads. Bayer uses cap application equipment from Mewes.

Estuardo Sazo, Head of Quality Control for Bayer S.A., says, "We estimate a bottle weight reduction of more than 25% which helps balance out the cost increase for the vented cap liners."

Bayer Guatemala salutes the sales and technical support provided by W.L. Gore and recognizes the important brand-protection and packaging integrity benefits provided by the Gore-lined caps.

Sazo emphasizes, "The most important environmental benefit is that, with the bottle weight reduction, we have averted more than 90 tons of plastic packaging materials going into the waste stream during the period of 2008 through 2009."
Companies in this article