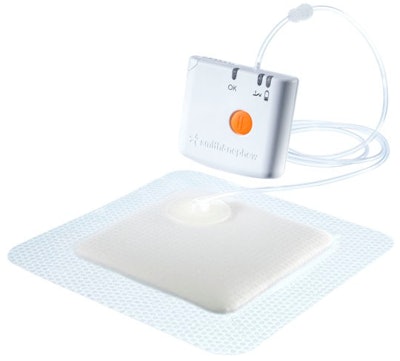 In an effort to help reduce the human and economic cost of wounds, the Advanced Wound Management division of Smith & Nephew announced the commercial launch of its
PICO
system—a single-use, negative pressure
wound therapy
(NPWT) system for acute and chronic wounds, high-risk surgical incisions, and skin grafts.
The PICO system was officially approved by Health Canada in April 2011 and has been in preliminary use by a select group of hospitals and physicians.

Smith & Nephew believes the PICO system represents a significant advancement in NPWT in that its disposable pump works with a revolutionary dressing technology that manages fluids and eliminates the need for canisters, making it patient-friendly and simple to use and operate.
The PICO system can be worn for seven days and its gentle silicone wound contact layer helps minimize pain at a dressing change. By pushing an orange button, clinicians are able to use the PICO system to deliver NPWT to a wide range of wounds and care settings.
PICO packaging and advertising will include an MS Tag that links to an application/mechanism of action video, eliminating the need for complex training modules.
"As a physician, I'm always looking for ways to improve upon quality of patient care and outcomes," says Sarvesh Logsetty, MD, FRCSC, FACS, director of Manitoba Fire Fighters Burn Unit, health science centre and associate professor, plastic & general surgery at the University of Manitoba. "Therefore, I'm especially excited to have access to the new PICO system. It affords clinicians the option to treat patients who would benefit from NPWT with a simple, easy to use alternative."
Said to be more affordable than traditional NPWT options, the PICO system can reduce related therapy costs. Available off-the-shelf, the PICO system may reduce the occurrence of delayed discharges from healthcare settings. The PICO system may also reduce the occurrence of surgical site complications and associated costs, time needed to care for a wound and the risk of re-admission.
Smith & Nephew will use a custom-developed iPad application to introduce and sell the PICO system. The application is designed to be an interactive experience that includes video, product animations, testimonials, case studies, and product information. A mobile-enabled Web site will allow patients and clinicians to access information about the PICO system when they are on the go.