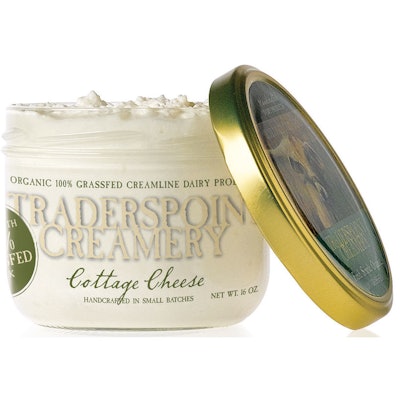 Traders Point Creamery, a Zionsville, IN, dairy owned by Jane Elder Kunz and Fritz Kunz, offers artisan products made with 100% grass-fed organic milk and is committed to the health of its customers and the planet. "Since Fritz is a physician, health is an important part of our 'M.O.,'" reveals Elder Kunz.
In 2006, the dairy introduced its cottage cheese product, which Traders Point describes as "the closest consumers can get to the original recipe that was crafted in cottages going back hundreds of years." Since then, the Kunz say they have "relentlessly" searched for a glass alternative to the square plastic container they used to launch the product, for two reasons. "One is that our cottage cheese is made in a very special, old-fashioned European way that is not found easily today…so this is a very deserving product," says Elder Kunz. "The second reason is that we believe there are health benefits to storing food products in glass, where plastic outgasses and may have hormone disruptors."
According to The Glass Packaging Institute, glass is the only packaging material rated "GRAS" or "generally regarded as safe" by the U.S. Food & Drug Administration.
In August, Traders Point began packing its cottage cheese in a round, wide-mouth, 16-oz glass jar, manufactured by Verallia and distributed through Stanpac. The clear glass jar joins the company's other glass-packed dairy products, including milk, yogurt, and spreadable cheeses, and allows consumers to see the creamy cottage cheese product within. A gold metal lid from Tecnocap tops the jar. Says Elder Kunz of the new jar: "We are basically catering to our customers, who love the aesthetics, health benefits, and recyclability of the glass."
Package graphics, found on a clear, shrink-sleeve label and on the jar lid, were developed by Elder Kunz and a local designer, Jennifer Bradley Designs (317/769-3161), to convey nostalgia and the creaminess of the product. The company logo is positioned on the front of the label to appear like "dripped cream." Pastoral artwork on the jar lid, donated by local artist Nancy Noel, depicts a cow—a symbol used "to connect man with nature," says Elder Kunz.
Since Traders Point Creamery's cottage cheese product was re-introduced in May at Whole Foods Market and at the dairy's on-site store, sales have increased in current locations, and more retailers have inquired about putting the product on their shelf, Elder Kunz relates. "It's almost like a new product," she says. "No one really seems to remember the old package."
Companies in this article