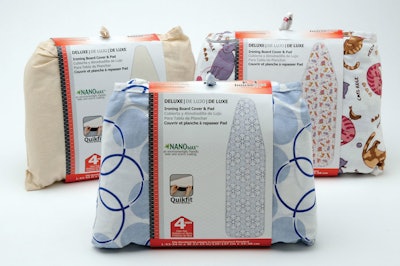 A simple solution has yielded big sustainability benefits for Household Essentials LLC, Hazelwood, MO, which now adds a Gold award from DuPont for Innovation and Sustainability to the Greener Package Award it was honored with in 2010. Due to its proven sustainability attributes, this innovation has also been awarded Silver Level Cradle to Cradle® Certification from MBDC.
Several years ago, Household Essentials engaged its product and packaging supplier to eliminate all plastic—primarily polyvinyl chloride and oriented polypropylene—from the packaging of its ironing board cover and pad product. "The challenge was to come up with an innovative way to eliminate all plastic from our packaging and to economize shelf space for our retail customers, while also having an attractive package that helps sell the product to consumers," shares company CEO James Glenn. "The new packaging had to achieve these goals while also maintaining the perceived value of the product."
A solution came in the form of a dual-function cloth storage pouch attached to the cotton-construction pad and cover that acts as a package wrap at retail, and holds spray starch and other ironing accessories when in use. For point-of-purchase display, the triangular pouch package is encircled with a paperboard sleeve, made from recycled paperboard and printed with nontoxic inks.
According to Glenn, the new packaging has resulted in a reduced weight of 10.75 oz versus 12.5 oz for the former plastic pouch Household Essentials used—a 14% decrease. The smaller pack shape also decreases the planogram footprint from 148.5 sq in to 97 sq in (a 35% decrease); increases the number of units per pallet from 288 to 360 units (a 25% improvement); and reduces the number of cargo containers shipped via ocean and truck annually from 350 to 299 (a 15% improvement). The company calculates its annual PVC savings to be 375,000 pounds.
During the package redesign process, Household Essentials also re-evaluated the composition of the coating it used on its product for scorch- and stain-resistance. A new 85%-water-based Nano coating is now being used that is said to eliminate potentially dangerous chemical ingredients, as well as enhance the life of the product, resulting in less cost and waste to the consumer. The Nano coating also serves as a protective stain barrier while the product, with its cloth pouch exposed, is displayed on retail shelves.
Since it was launched in 2009, Glenn says the Ironing Board Cover & Pad (with sewn-on Packaging Pouch) "has been extremely well received by the trade and is sold in major mass market retailers throughout the U.S., Canada, and worldwide." He adds that a display of Greener Package Award winners at the "Showcase of Packaging Innovations" at Pack Expo 2010 increased brand awareness of the product and package and resulted in the addition of two new national mass-market retail customers
Companies in this article