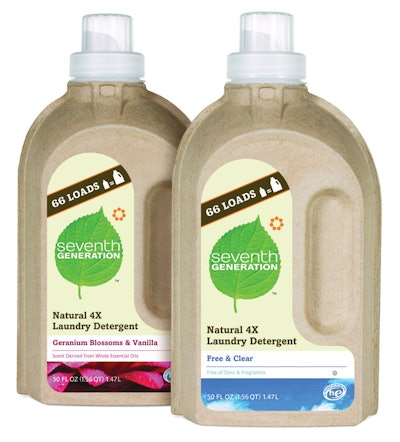 Ecologic Brands (www.ecologicbrands.com) has found a winning application for its multi-component molded-pulp package in Seventh Generation's new 4X concentrated brand of liquid laundry detergent (see packworld.com/package-31622 and packworld.com/video-31689). The product has been on shelf for just 12 weeks (at presstime) and is already the number-three top-selling detergent in its category of 150 SKUs. The package was also a winner with the 2011 Greener Package Awards judges, who rewarded it with an Environmental Impact award in the Non FDA-Regulated Products category.
The Seventh Generation container consists of a molded-pulp outer shell made from 70% recycled cardboard (OCC) and 30% old newspapers (ONP) that can be recycled up to seven times. The material, without the paper label, has been certified through the Biodegradable Products Institute  as being compostable per ASTM 6868. The package's inner film pouch with spout has been constructed of polyethylene only, making it suitable for recycling with plastic grocery bags in retailer drop-off bins from Trex. When compared with a rigid plastic container, the pouch reduces plastic use by 75%, Ecologic informs. And, because the shells can be nested and the pouch can be transported flat to Seventh Generation, one truckload of the packaging materials equals nine truckloads of rigid plastic containers. Lastly, the package closure, as with most traditional laundry containers, is made from polypropylene, and is recyclable through Preserve's Gimme 5 recycling program, found in Whole Foods Market stores. The result: A lighter-weight package that easily fits into the existing recycling stream.
Not that Seventh Generation is any newcomer to sustainable packaging advancements. At 80%, the company boasts the largest content of post-consumer recycled high-density polyethylene in its rigid laundry detergent containers. "We were reluctant at first to look at the molded-pulp bottle, because we had worked so hard at recycled HDPE," says Peter Swaine, Seventh Generation's director of packaging development. "But the reality is that only 29 percent of HDPE is recycled."
Swaine attributes the low number to several factors, including lack of consumer education, confusion surrounding the SPI codes for plastics, and the lack of recycling in many U.S. municipalities.
With the molded-pulp bottle, consumers immediately understand the environmental proposition of the package. And, the likelihood of the molded-pulp shell being recycled is much greater, as OCC is recycled at a rate of 82% and ONP at 88%. "Recycled-content HDPE bottles are industry-leading," says Swaine, "but it's hard to tell the story because they look so much like traditional bottles. The new bottle is completely unique."
As Ecologic founder and CEO Julie Corbett explains, part of that unique appearance also comes from the challenges associated with using recycled paper materials, which often have a large variance in the quality and origins of the feedstock. "Both these factors will have an effect on the color and outside appearance of the shell," she says. "For example, small spots or flecks might be visible on the outside and inside of the shell."
"If we want to continue to make products from recycled materials, this is something consumers will have to overcome. Our bottle's general likeability and design will help consumers better understand that the beauty of a package is not only about the outside appearance, but also about the origins of materials."
One current package-manufacturing drawback of the shell versus injection molding of rigid plastics is that the molded-pulp packaging requires the application of heat longer than required for plastic. Corbett assures that technology is quickly advancing to solve this issue. "The direction is the right direction, and this is an industry that has taken on a new life, but it's kind of at its infancy in terms of infrastructure."
Corbett reports that future projects in the works for Ecologic include the development of a 64-oz stock container, as well as other stock sizes, and "custom bottles for many other customers for liquids, dry ingredients, consumables, and non-consumable products."
Says Greener Package Awards judge Jack DiMartino of Stonyfield Farms, "I love everything about this project; the amount of thought and consideration for its consumers and the environment, puts Seventh Generation on a different level for sustainable packaging."
Companies in this article