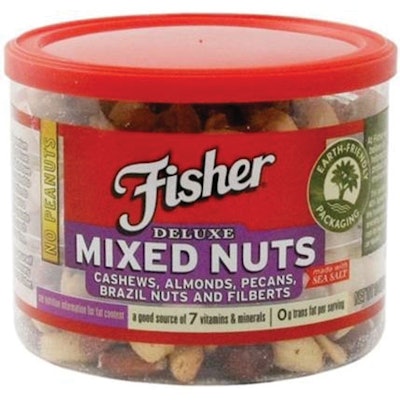 As part of its "Reduce, Reuse, Recycle" initiative, nut processor John B. Sanfilippo & Son, Elgin, IL, has transitioned the retail packaging for its Fisher Nuts brand from a composite can to a lightweight, clear PET package. The switch to the new material also inspired a complete brand makeover, including a new logotype, label graphics, and label material, recently launched through the "Freshness You Can See" campaign.
According to JBSS procurement category manager Joe Freiburger, the company had been searching for a more sustainable option to the composite can since late 2008, settling on PET due to its recyclability. "There currently isn't an infrastructure for recycling the composite can, whereas PET is the most commonly recycled plastic," Freiburger explains.
Other environmental benefits of the container, which JBSS is calling the Clear Can, include a lighter weight-40% lighter-and up to 75% fewer greenhouse gas emissions annually versus the composite can. GHG claims were verified through a third-party audit by Packaging Knowledge Group LLC which considered the production of raw materials, conversion of raw materials, and disposal of the packages in the analysis.
The see-through package, decorated with a clear label that allows an unfettered view of the fresh nut products within, is a stock container supplied by Graham Packaging in several sizes, and in a shape that mimics the former composite can. Lidding material provides a hermetic seal for the can, which is topped by a stock red high-density polyethylene lid. Label copy alerts consumers that the container can be recycled or reused after the nuts are eaten.
According to JBSS, a recent survey showed that consumers strongly prefer the new Clear Can, with more than half expressing a preference for the new package over the old one. "People prefer being able to see the product," says Howard Brandeisky, vice president of Global Marketing and Innovation at JBSS. "It's visual verification of freshness and quality."
Companies in this article