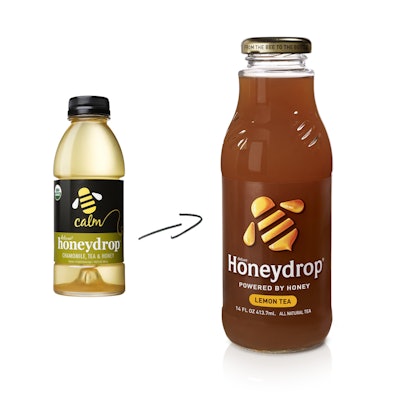 Just several years after hitting the market, the Honeydrop brand of honey-sweetened, natural beverages has undergone a makeover intended to communicate more clearly its unique brand concept, "break through the clutter, and connect with the natural beverage consumer," relates Rochelle Martyn, founding partner of Monday Collective (www.mondaycollective.com), which spearheaded the redesign.
"Honeydrop launched in 2008, and after two years in a highly competitive and fast-growing marketplace, the brand needed to work harder to differentiate on-shelf," she explains. The brand's core attribute: It's the only ready-to-drink brewed tea and juice product sweetened only with honey, with no refined sugars or artificial ingredients.
To position the brand as a premium product, Honeydrop Beverages switched from a PET bottle to a 14-oz custom glass bottle from Vitro Packaging (www.vitro.com/vitro_packaging) that sports embossed bee designs at the top. Martyn notes that the bottle shape takes its cue from a milk bottle design, "which helps communicate Honeydrop's natural positioning."
Other design updates include the use of a clear label to allow for product transparency, a redesign of the package's central graphic—a bee icon—to have more character and to look more like real honey, a simple color system for flavor differentiation, and new copy, "from the bee to the bottle," that sends a clear, unified message that Honeydrop is made with real honey.
On the back of the transparent wrap label, offset-printed in four colors plus white by General Press (www.generalpress.com), simple icons, such as a chamomile flower and a tablespoon of honey, depict product ingredients. A back-of-pack "brand badge" is designed to raise awareness of Colony Collapse Disorder and Honeydrop's commitment to supporting the honey industry.
Companies in this article