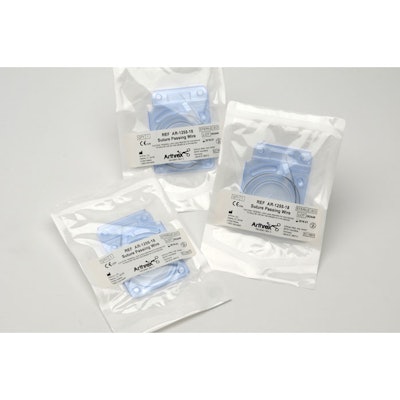 A thermoformed PETG, three-paneled Wire Coil Clamshell for Arthrex Inc.'s suture passing wire earned Perfecseal, a div. of Bemis Co., a DuPont Packaging Innovation Award from the Packaging & Industrial Polymers' 23rd DuPont Awards.
The wire, a Class II medical device, is used in surgery to pass sutures through ligaments, cartilage, and bone. Arthrex is a Naples, FL-based provider of products and educational services for orthopaedic surgeons and their patients. The company has developed more than 5,000 products for arthroscopic and minimally invasive orthopaedic surgical procedures as part of its goal to make technically demanding surgical procedures easier, safer, and reproducible. Its products are distributed throughout the U.S. and in more than 60 countries worldwide.
Perfecseal and Arthrex designed the innovative package to overcome the challenges the medical field faces in assembling suture passing wire. Using a three-paneled, thermoformed package design and eliminating the heat-sealed lid, manufacturing times and costs were reduced while aiding medical personnel in easily removing the suture for quick access. The package was launched by Arthrex in the second half of 2010.
According to Perfecseal, the package design enables efficient product assembly and provides protection for the surgical wire during assembly, sterilization, and distribution.
Perfecseal notes, "In the previous package configuration, a porous lid had to be heat-sealed to a clamshell tray before the medical suture passing wire could be coiled into the package. Assemblers would then insert the tail end of the surgical wire into the clamshell opening and push the wire into the clamshell through this opening causing the wire to coil into the clamshell as it traveled around the circular channel. However, due to the stiffness of the product, the wire would often snag causing the assembler to start over, hence leading to longer production times and strain on the assembler."
The award-winning package provides Arthrex and product users with the following features and benefits:
• Easier, faster assembly is estimated to save Arthrex $65,000 annually in labor costs.
• Eliminates the use of a heat-sealed coated lid, which is not recycled. It is estimated that at least a 25% material reduction was achieved as a result. Also, excess material in the center of the primary fold-over panel was removed to reduce overall package weight, which helps minimize transportation costs and emissions.
• Design methodology incorporates not only the product, but also the use of the product throughout the supply chain.
• Larger ribbed panel of the clamshell is folded over and snapped to the base panel to create a nearly enclosed wire channel. At the time of use, the nurse opens a folded over panel using a thumb-tab to access the head of the surgical wire to remove the product.
• Provides product visibility via the clear, blue-tinted PETG.
• Improves branding by adding the Arthrex logo and part number to the secondary sterile-barrier package. The previous design did not use the company name or part number.
Companies in this article